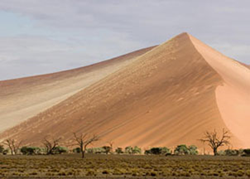 Spectacular desert landscapes as a backdrop to abundant wildlife make Namibia a top pick for us this fall.
Atlanta, GA (PRWEB) June 27, 2014
"Our partnership with Birding Africa allows us to deliver a unique experience to those interested in learning more about Namibia's birds, wildlife, and natural history," says Naturalist Journeys CEO and guide Peg Abbott. "Birding Africa is one of the continent's most accomplished birding organizations. We've worked with them to design a tour that provides unparalleled access to Namibia's incredible biodiversity," she explains.
September marks the end of the dry season, which creates the perfect set of conditions for game viewing in Namibia; travelers will observe the dramatic increase in wildlife activity around the few remaining waterholes, including regular encounters with Lions, Elephants, Black Rhinoceros, and Giraffe. The tour highlights several of these waterholes in Etosha National Park, at both scenic viewing areas and national park lodges.
Marge Hemp of Birding Africa recommends September as an ideal time for birders. In addition to concentrated large mammals, migratory birds from Northern Africa and Europe begin to return to Namibia in September, bringing with them a notable raptor population.
Namibia's birds enter the breeding season in September, and colorful species in full breeding plumage create excellent opportunities for photography.
The Namibia Sampler is set against the stunning backdrop of the country's iconic red dunes and the vast salt flats of Etosha National Park. The cracked surface of the Etosha Pan extends nearly 1,900 square miles into the Namibian wilderness, and acts as a gathering place for migratory birds during the rainy season. The Park also contains extensive grasslands and savanna, playing host to Cheetah, Ostrich, Zebra, and more.
Travelers will also spend time on the Skeleton Coast and Walvis Bay searching for White-chinned Petrels, rare Damara Terns, Benguela Dolphins, and Fur Seal colonies that number in the thousands.
Travelers will have the opportunity to spot several national and regional endemic species including Dune Lark, Hartlaub's Gull, White-tailed Shrike, and Monteiro's Hornbill.
Find full details of Naturalist Journeys' Namibia Sampler: Wildlife, Birding, and Spectacular Scenery tour at http://www.naturalistjourneys.com/jcalendar/jc_namibia14.htm.
More about Naturalist Journeys' Namibia Sampler: Wildlife, Birding, and Spectacular Scenery tour:
This tour begins and ends in Windhoek's Huseo Kutako International Airport. It is limited to 8 participants. Company owner Peg Abbott will lead the tour along with local expert guides. An optional extension,"Wild Dogs and Wildlife in a Hidden Gem of Africa," is also offered September 25-29 to Madikwe National Park.
More about Naturalist Journeys:
Naturalist Journeys LLC, a top birding and nature tour company, offers specialty small group tours and travel worldwide, from the western U.S. to Alaska, Hawaii and Florida, Costa Rica, Panama, safaris in Africa and more. Naturalist Journey's guided nature and birding tours feature expert guides with decades of experience in birdwatching, travel photography and other forms of ecotourism. Naturalist Journeys also offers hiking and adventure travel tours in many national parks and wildlife reserves, including the Galapagos, Antarctica and the Amazon.