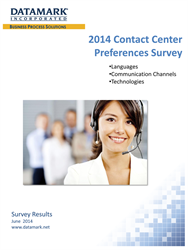 El Paso, Texas (PRWEB) June 27, 2014
DATAMARK, Inc., a leading provider of global business services, including bilingual (English/Spanish) contact center services, today announced the results of its recent survey of customer's preferences when dealing with call/contact centers.
The survey, conducted in advance of DATAMARK's exhibition at Call Center Week, in Las Vegas June 9-13, focused on consumer's preferences for language, communication channels and technologies when reaching out to contact centers.
Here are some key findings:
--Communication channels: When reaching out to a contact center, most consumers prefer to speak by phone with an agent. The next most favored communication channels are web chat and email exchanges.
--Accents: Respondents prefer to deal with agents who speak their language in a neutral (easy to understand) accent.
--Written communication: For channels such as email and web chat, respondents prefer agents who are highly proficient in writing in the customer's language.
--Technologies: In regard to newer, innovative contact center technologies, most respondents prefer callback technology: a phone menu option that arranges for customers to be called back rather than remain on hold.
For detailed findings and analysis of the survey results, download the 2014 Contact Center Preferences Survey at this link:
http://www.datamark.net/uploads/files/contact_center_preference_survey_2014.pdf
About DATAMARK
DATAMARK, Inc. is a leading business process outsourcing company specializing in high-volume digital mailroom management, document processing/document management, bilingual (English/Spanish) contact centers and process improvement consulting for Fortune 500 companies and other large enterprises.
Headquartered in El Paso, Texas, DATAMARK employs nearly 2,200 people in its U.S., Mexico and India facilities. For more information, visit http://www.datamark.net. Follow industry news and trends at DATAMARK's Outsourcing Insights blog at http://www.datamark.net/blog.