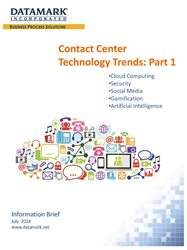 El Paso, Texas (PRWEB) July 15, 2014
DATAMARK, Inc., a leading provider of global business services, including bilingual (English/Spanish) contact center services, has released an information brief highlighting technologies driving new and innovative products, services and solutions for the contact center industry.
The round-up follows DATAMARK's appearance at Call Center Week, June 9-13 in Las Vegas, where scores of vendors presented solutions designed to improve the performance of organizations' customer contact centers.
"Call Center Week is the industry's largest annual event, and there were so many interesting and innovative products and services showcased at the conference and expo, it would probably take weeks to analyze and review them all," said DATAMARK Marketing Coordinator David Peregrino. "So what we've done is put together a concise, easy-to-read overview of the major technological trends behind many of these vendors' products and services. There are so many things happening tech-wise in the contact center space, we're releasing this as a two-part series of information briefs."
Contact Center Technology Trends: Part 1 focuses on five tech fields making industry waves:

Cloud-based contact center software platforms
Data security and customer authentication solutions
Social media applications
Gamification solutions to improve performance
Using artificial intelligence to speed up problem resolution
The information brief is available for complimentary download at this link:
http://info.datamark.net/Contact-Center-Technology-Trends---Part-1_Tech-Trends-1.html
Part 2 of the series is scheduled for release in late July/early August.
About DATAMARK
DATAMARK, Inc. is a leading business process outsourcing company specializing in high-volume digital mailroom management, document processing/document management, bilingual (English/Spanish) contact centers and process improvement consulting for Fortune 500 companies and other large enterprises.
Headquartered in El Paso, Texas, DATAMARK employs nearly 2,200 people in its U.S., Mexico and India facilities. For more information, visit http://www.datamark.net. Follow industry news and trends at DATAMARK's Outsourcing Insights blog at http://www.datamark.net/blog.