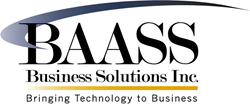 "BAASS has a tremendous amount of respect for the HBM team and its strong leadership," said Joseph Arnone, President of BAASS. "Their approach to solving problems and commitment to quality create a natural extension that aligns with BAASS."
Toronto, Ontario (PRWEB) June 27, 2014
BAASS Business Solutions Inc. (BAASS), a distinguished North American Sage ERP partner, today announced that it has joined forces with Halifax based HBM Integrated Technology. The merger enhances BAASS' presence across Canada.
BAASS is a provider and implementer of accounting and business management software applications for corporate and community-based organizations within North America and the Caribbean. BAASS is recognized by Sage as a partner committed to service excellence. An impressive track record of successful implementations as well as a vertical market strategy has earned BAASS industry recognitions such as: Sage Business Partner of the Year, Sage President's Circle Awards and Accounting Today VAR 100 for several years.
"BAASS has a tremendous amount of respect for the HBM team and its strong leadership," said Joseph Arnone, President of BAASS. "Their approach to solving problems and commitment to quality create a natural extension that aligns with BAASS."
HBM will add a team of application and technical consultants with diverse backgrounds that inject incredible value to BAASS' vertical industry expertise. Drawing on over twenty years of experience, HBM has been recognized and rewarded with a number of sales awards from Sage over the years as well as the Sage Spirit Award for their high level of commitment to the Sage channel. Garry Beattie, CMA, President of HBM has been recognized as one of three endorsed partners around the world by Technisoft, developer of the industry leading Service Manager add-on for Sage 300.
After the completion of the merger, Garry Beattie will continue to be the Partner in charge of the BAASS Atlantic office as well as leading the national Service Management Practice for the organization. Anna McNally will manage the BAASS Atlantic office and will focus on building the national Long Term Care vertical specialty for the group.
"We have worked with amazing clients and done some remarkable projects in the last 20 years, and we know that if we want to continue to service our clients in the way they have become accustomed, we needed to bring them the best possible resources. Through our access to the BAASS team of professionals, we'll be able to offer all we have in the past, and more." said Garry.
"For years I have admired BAASS's accomplishments and portfolio – being part of the BAASS team is not only a viable strategic partnership but an opportunity to work alongside knowledgeable professionals with the same goals and principals we have adopted over the years," commented Anna McNally, Partner, HBM.
###
About BAASS Business Solutions Inc.
BAASS is a full service technology firm with twenty-five years of industry experience. With a broad client portfolio, BAASS serves over 3,000 clients across North America and the Caribbean. With a past record of successful system implementations, BAASS has been recognized within the industry on numerous occasions. Recognitions include being ranked in Accounting World's Top 100 VARs, Accounting Technology Magazine's Pacesetters Award, two consecutive Business Partner of the Year awards from Sage Software Inc ., and nine consecutive Sage President's Circle awards for being a top performing Business Partner.
With an experienced team of IT and business application and design consultants, BAASS offers a comprehensive range of services including needs assessment, management consulting, system design and configuration, software training and technical support in accounting, ERP, CRM, e-business, custom solutions, and specializes in Sage HRMS, Sage CRM, Sage 300 ERP, and Sage ERP X3 products.
About HBM
Launched 1992, HBM Integrated Technology Inc. is a solution provider dedicated to improving the functional strategy of its clients, representing every facet of industry, government and academia, and specializing in solutions for long-term care and service management. As a Sage Software Authorized Partner and support provider offering the complete line of Sage 300 ERP solutions packages, HBM provides project management, implementation, technical support and module training.