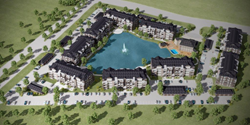 This asset will be the new benchmark for luxury living.
Houston, Texas (PRWEB) July 01, 2014
NOI Property Management LLC, is pleased to announce their most recent new development "lease-up" and "management" assignment for THE RISE APARTMENTS, Spring, Texas. THE RISE APARTMENTS construction has begun on this Class "A" asset and pre-leasing will commence in the 4th Qtr 2014 for 1st quarter 2015 occupancies.
"We are proud to be a part of this new development project that brings luxury to a new level in the greater Houston markets", says V James Marfuggi, President of NOIPM. Our client brings an urban twist to an otherwise suburban area for this 300-unit, midrise apartment community. Four story, elevator access units surround a magnificent lake, walking paths, and superior interior finishes capped off by social amenities that will meet the most discerning renter. This asset will be the new benchmark for luxury living, according to Marfuggi.
NOI Property Management LLC is a Texas based, 3rd party multifamily management services company.
NOIPM officers have operated over 3.5 billion in multifamily assets over the past 25 years in major and tertiary markets across the United States.
NOIPM is best described as high impact for both clients and residents alike. Adhering to best practices to exceed market performance, NOIPM focuses on operating basics, or as we refer to as "Performance Fundamentals". We maximize the resident experience, emphasize product presentation, educate our team in financial metrics and therefore raise the performance expectation.
NOIPM offers clients a proven track record of success across multiple operating disciplines; conventional management, turnaround management, value ad management, construction services management and new development lease-ups.
For more information about NOI Property Management LLC, contact KSmith(at)NOIPM(dot)com