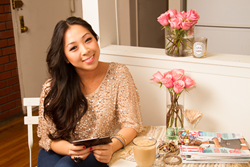 "We are thrilled to be joining forces with Donna Kim to share her beauty and style expertise with our customers through how-to videos and product features on our social media outlets," said Beauty Encounter CEO Jacquelyn Lang.
Fountain Valley, CA (PRWEB) July 17, 2014
Beauty Encounter (http://www.beautyencounter.com), a leading e-tailer featuring all things beauty and specializing in hard-to-find niche products, is pleased to announce a partnership with Donna Kim of Donna Daily as a first-ever brand ambassador. Kim will serve as an expert resource for the beauty company to deliver in-depth features and the latest beauty tips and news to customers through its website and social media outlets.
Donna Kim is a beauty and style expert and the mastermind behind Donna Daily, a well-known beauty and inspiration blog that was named one of the "Best Beauty Blogs" by BeautyHigh.com. Based in New York City, Kim is an editor at top beauty website xoVain.com, a lifestyle journalist, digital media strategist and makeup artist whose work has been featured on major television networks and in national consumer publications such as NBC's Today Show, NBC's New York Live, ABC's Live Well Network, Huffington Post Live, Racked.com, Brides Magazine and QVC. Donna's philosophy is "making style and beauty simple and accessible for the everyday woman."
"I can't wait to share my philosophy with Beauty Encounter customers," said Kim "Staying current with trends and navigating all of the products out there can be overwhelming. I am going to help shoppers find what makes them feel good inside and out, easily and affordably, thanks to Beauty Encounter."
Beauty Encounter will be collaborating with Kim to provide exclusive how-to video tutorials and features on their latest brands and products for the website's At the Counter section and blog Behind The Counter, as well as their Facebook page.
"We are thrilled to be joining forces with Donna to help our customers find their beauty obsession," said Beauty Encounter CEO Jacquelyn Lang. "We want to be a destination for all things beauty, and working with Donna will give us an expert resource in the creation of our web features and content."
About Donna Daily:
Donna Kim is a well-known multimedia journalist, on-air style expert and digital media strategist based in New York City. Her passion stems from people; by creating and generating unique trend-driven content for her style conscious readers. Donna's work has been featured on top media outlets including NBC's The Today Show, NBC's New York Live, QVC, ABC's Live Well Network, Brides Magazine, Racked.com and The Village Voice.
About Beauty Encounter:
Beauty Encounter is obsessed about all things beauty. The company has the largest selection of authentic beauty essentials at the most affordable prices online. Known as the world's largest beauty counter, they offer over 1,000 big name and niche brands and more than 40,000 fragrance, skincare, makeup and hair care products, available a shopper's fingertips. Customers have access to exceptional customer service and a secure online shopping platform. Beauty Encounter shoppers also will find a robust beauty community that offers the latest beauty news, trends and tips.