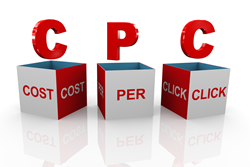 Cost-Per-Click advertising is a great way for small businesses to spend their advertising budget only only their target market.
(PRWEB) June 30, 2014
GetUWired, a full-service marketing firm located in Dahlonega, Ga., has just released an informative blog titled "Cost-Per-Click Advertising: 101." This article explains the basics of cost-per-click advertising in terms even beginners can understand.
What is CPC advertising?
CPC advertising is Internet advertising that appears on a user's screen based on what the user has been searching for. CPC ads pop up on top of and beside search results. These are also known as "sponsored links." Google AdWords is the most popular CPC advertising system on the market today.
Advertisers pay a certain amount of money each time a user clicks on their ad. CPC budgets can range from $5 a day to $50,000 a month. The cost and depth of CPC advertising depends on how much the advertiser wants to invest.
Keys to a great CPC campaign
Creating a truly successful CPC campaign depends on three main factors:
Keyword relevance – Using the right keywords in CPC campaigns is incredibly important. CPC ads (which are grouped into campaigns) will be written around these keywords. Finding the right keywords and keyword phrases is a never-ending process. The "right" keywords are based on user searches, and those are always changing. Make sure to keep keyword research up to date.
Quality Score – Google determines quality score by looking at click-through rate, landing page quality, keyword relevance, organization of CPC campaigns, and more. The higher the quality score, the lower the advertiser's CPC bid and the higher the ad will rank in search results.
Landing Page Quality – Landing pages that obviously relate to their corresponding CPC ads, are SEO optimized, and full of relevant content and with a clear call to action earn the highest ratings from Google.
How Google chooses which ads to show
The way Google chooses which ads to show in a particular search depends on a couple different factors, including quality score and CPC bid (the amount an advertiser is willing to pay to use a certain keyword in an ad).
The advertiser with the best quality score/CPC bid combination will show up first in the sponsored results. The next best will get second place, and so on.
How to get started with CPC advertising
Beginning a CPC is a time-consuming, complex process that requires hours of research, design and testing. If an advertiser really wants their CPC ads to convert, it may be time to bring in a professional.
GetUWired offers complete CPC services, including campaign construction and maintenance, responsive landing page design and SEO. Call GetUWired today at 877-236-9094 or visit http://www.GetUWired.us today.