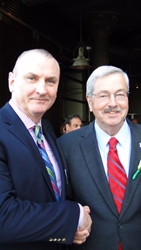 It's hard to leave such a dynamic environment.
Des Moines, IA (PRWEB) June 26, 2014
Iowa Gov. Terry E. Branstad and Lt. Gov. Kim Reynolds talked with many of the 250 small business owners who attended Mygooi's networking gooiKaraoke event Tuesday evening at Exile Brewery and Restaurant in Des Moines, said networking specialist Danny Beyer.
Beyer emceed the event on behalf of Mygooi, the Des Moines-based mobile technology brand that brings people together using innovative digital products and encourages "disruptive" networking.
The governor and lieutenant governor "spent more than an hour visiting and enjoying the competition," Beyer said. Mygooi CEO Paul N. Greenwood added that the evening was thoroughly gooi, with a lot of people making connections. "The governor hadn't planned to stay as long as he did, but it's hard to leave such a dynamic environment."
"In all my years of networking, I've never seen anything like it," said Beyer. "The turnout at Exile was great, and the people were even better. It was a very diverse group and there was a ton of networking, people moving around making connections." This was the second gooiKaraoke event ever, the first having been in Omaha in early May.
In gooiKaraoke, singers pick their favorite song, but instead of singing its original lyrics, they make up their own extolling their businesses. "It's like writing a networking elevator speech but with more sizzle and style," said Beyer. "It's a blast – totally gooi. It's a fresh form of networking designed to move participants out of their comfort zones, encouraging them to interact."
Tres Mentes Gourmet Foods LLC (https://www.facebook.com/TresMentesSalsa) topped 12 small businesses in the competition. The Grimes, Iowa, company's high energy rap spotlighted its salsa, available in stores in Des Moines, Ames, Council Bluff and Indianola, Iowa, and Omaha, Nebraska. The company won a gooi promotional video to be created by television producer/director/actor Ed Ellington and valued at $10,000.
Angelo and Phillip Campos, who founded Tres Mentes last year, started their company by bringing coolers filled with their salsa to area craft shows. A cooler became a drum in their performance Tuesday.
"This was one of the happiest days of our lives!" they said. "We want to thank everyone who supported and cheered us into first place. You guys truly rock! We are so blessed."
Community Foundation of Greater Des Moines finished second and won a MacBook, and CPS Auto and Marine received an iPad Air for finishing third.
The Omaha competition was won by Michelle Kaiser, owner of Alotta Brownies Bakery in Fremont, Nebraska. She captured the audience's vote by singing "Who bakes your brownies" to the tune of Who Let the Dogs Out."
About Mygooi
Mygooi™ is an energetic brand platform that is digital, creative, disruptive and global. Its portfolio of emerging products sizzle with IC/DC (Innovation and Creativity/Disruption and Community). Mygooi's utility and purpose are to bring people together with innovative digital products. Based in Des Moines, Iowa, and Chennai, India, Mygooi has as its mission to Go Where The Life Is.™
See Mygooi updates and watch GooiNation grow on Facebook at https://www.facebook.com/mygooi.
Visit our new website and download the app upon release at http://www.mygooi.com.
Mygooi supports the Cystic Fibrosis Foundation. Check them out at http://www.cff.org.
Media Contacts:
Jon Buscall, CMO
Mygooi
+46768637285 / jonb(at)mygooi(dot)com
Mark Perlman
Mygooi
312-315-0707 / Markp(at)mygooi(dot)com
Richard Greb
Mygooi
847-651-1445 / Richardg(at)mygooi(dot)com