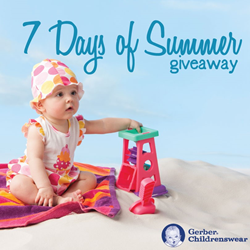 "What better way to help parents kick off the summer than with a chance to win multiple giveaways ranging from our multi-purpose cloth diapers to an adorable summer outfit." - Jeanne Dullea, Sr. VP of Business Development/Marketing
Greenville, SC (PRWEB) June 27, 2014
Gerber Childrenswear, the premier provider of infant and toddler apparel, announced today their "7 Days of Summer" Giveaway to celebrate the start of summer in style with their Facebook fans and friends. Beginning on June 30, 2014, entrants will have the chance to win over 500 prize items from Gerber Childrenswear.
Participating in the "7 Days of Summer" giveaway is simple: Facebook users should "like" the Gerber Childrenswear Fan Page, and fill out a short entry form to enter. The promotion is a first enter, first win so each day when the giveaway is announced, entries will be accepted until all prizes are given away for that day.
For a sneak peak at some of the giveaway's prize items, entrants can browse Gerber Childrenswear Pinterest board for an exclusive first look at their new 2014 Summer Lookbook. From baby bibs and sun suits to cloth diapers, Gerber Childrenswear will be giving away hundreds of its quality baby apparel and accessories that millions of parents and parents-to-be have come to rely and depend on to keep their infants and toddlers happy and comfortable for decades.
For more than 30 years, Gerber Childrenswear has been dedicated to providing quality, comfortable and affordable apparel essentials that parents need for baby's first years," stated Jeanne Dullea, Sr. VP of Business Development/Marketing. "What better way to help parents kick off the summer than with a chance to win multiple giveaways ranging from our multi-purpose cloth diapers to an adorable summer outfit."
Click for full giveaway schedule
Click here for full contest rules.
###
About Gerber Childrenswear:
Gerber Childrenswear LLC (GC LLC) is a leading marketer of children's apparel and related products, which it offers under its flagship licensed brand, Gerber®, and the Onesies® brand one-piece underwear. GC LLC also has licenses with Jockey®, Lamaze® and NFL brands in the layette, playwear, underwear and sleepwear categories. The company is the leading provider of these brands to volume retailers, department stores and specialty retailers.