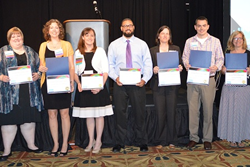 We were thrilled have the opportunity to review a wide variety of comprehensive student retention projects.
New York, NY (PRWEB) June 27, 2014
EBI MAP-Works, an innovator in student retention systems and program assessments for higher education, last week announced its 2014 Excellence Award winners and scholarship recipients at a ceremony that took place at the Grand Hall Ballroom at the historic Crowne Plaza Union Station in Indianapolis, Indiana, in conjunction with the company's seventh annual user conference. The MAP-Works Excellence Awards were presented to eight institutions that were recognized for their work in creating environments that foster student success. Scholarships were awarded to three students who wrote essays about the positive impact MAP-Works has had on their college careers.
The MAP-Works Excellence Awards were created to recognize institutions that exemplify the EBI MAP-Works mission of contributing to continuous improvement in student success and retention. The stories of the award recipients illustrate the many ways in which MAP-Works, a member of the Macmillan New Ventures portfolio of education technology solutions, is able to support each student's successful transition to college and the optimization of their college experience.
"The sheer number of impressive applicants for the EBI MAP-Works scholarships and the Excellence Awards was overwhelming," said Diana Fulkerson, Director of Client Services for EBI MAP-Works. "We, along with the external review committee, were thrilled have the opportunity to review a wide variety of comprehensive student retention projects taking place across the country."
This year's eight MAP-Works Excellence Awards winners were chosen from a field of thirty-four applicants and were recognized for their work on programs that ranged from campus-wide student success initiatives to those that focus on increasing engagement and retention within specific student populations. Descriptions of the winning entries can be found here. The MAP-Works Excellence Awards for 2014 were presented to Northern Illinois University, Indiana State University, MCPHS University, University of Wisconsin – Milwaukee, University of San Diego, Iowa State University, University of Northern Colorado, and University of Iowa.
The MAP-Works Scholarship is an annual essay contest for first and second-year college students who have used MAP-Works at their institutions. The scholarship was created to highlight the experiences and achievements of the students selected for the awards. Chosen from a field of 155 applicants, the three 2014 award winners will each receive a scholarship of $1,500 for the 2014/15 school year. The three winners are Sierra Saxon of Appalachian State University, Amanda Saad of Michigan State University, and Sergio Leal-Angeles of the University of Central Arkansas. A video of the scholarship recipients, discussing their experiences with MAP-Works, can be found here.
For more information about EBI MAP-Works: http://www.webebi.com
For more information about Macmillan New Ventures: http://www.macmillannewventures.com
About EBI MAP-Works:
Since 1994, EBI MAP-Works has been collaborating with professional organizations to build a library of over 60 easy-to-use academic and student affairs assessments, all rooted in accreditation and professional standards and based upon principles of continuous improvement. The output of these assessments includes longitudinal data, the ability to benchmark against peer institutions, and dashboards that enable rapid identification of specific program issues and areas that need to be addressed first. The MAP-Works Student Retention System, originally developed in conjunction with Ball State University, combines predictive analytics and proprietary algorithms with student data—both historical and current—to provide a continuous cycle of communication across departments, visually informing faculty and staff of at-risk students, facilitating early intervention strategies and measurable results.
About Macmillan New Ventures:
Macmillan New Ventures discovers and develops innovative, proven technologies and new products that drive learning outcomes and engagement. Part of global media company Macmillan, the New Ventures division pushes the boundaries of where, when and how learning happens - teacher to student; student to teacher; and peer to peer.