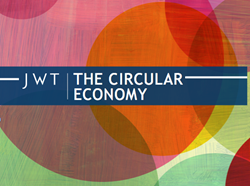 New York, NY (PRWEB) June 26, 2014
In its latest report, JWT, the world's best-known marketing communications brand, explores an alternative economic model that's gaining traction, how some brands are adopting circular economy principles and why these can boost competitiveness.
"Among some of the world's top corporate leaders, there's a growing understanding that traditional business models—built on the presumption of unlimited and cheap natural resources—must be reworked for 21st century realities," said JWTIntelligence editorial director Marian Berelowitz. "This is an important topic not only because the approach is far better for the planet but because tapping into circular principles may well be essential to businesses' long-term health."
The circular economy represents a markedly different way of doing business, replacing established practices like planned obsolescence with new approaches to generating profits. This report examines how brands across categories—from Puma and Ford to Ikea and Starbucks—are taking steps toward implementing the circular economy by rethinking elements of the status quo: leasing rather than selling products, remanufacturing goods, seeking ways to extend the life of products or their components, finding more value in waste, or designing for circular use.
In addition, the report explains how the circular economy differs from the linear economy, why this concept is gaining more adherents now and what this model means for brands. The report also incorporates insights from interviews with several experts and influencers.
Additional knowledge and research on JWTIntelligence.com includes recent reports on mobile trends, opportunities for marketers in Brazil, BRIC Millennials, and JWT's 10 Trends for 2014 and 100 Things to Watch in 2014.
About JWT
JWT is the world's best-known marketing communications brand that has been inventing pioneering ideas for the past 150 years. Headquartered in New York, JWT is a true global network with more than 200 offices in over 90 countries, employing nearly 10,000 marketing professionals. JWT consistently ranks among the top agency networks in the world and continues a dominant presence in the industry by staying on the leading edge—from producing the first-ever TV commercial in 1939 to developing award-winning branded content today. For more information, please visit http://www.jwt.com and follow us @JWT_Worldwide.
About JWTIntelligence
JWTIntelligence is a center for provocative thinking that focuses on identifying shifts in the global zeitgeist. Its aim is to bring the outside in—to help inspire ideas beyond brand, category and consumer conventions—and to identify emerging opportunities so they can be leveraged for business gain. As a part of JWT, the world's best-known marketing communications brand, JWTIntelligence has conducted trends research and analysis across categories and geographies for nearly a decade. For more information, please visit http://www.jwtintelligence.com and follow us @JWTIntelligence.