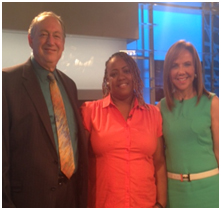 Rockville, MD (PRWEB) June 27, 2014
On Tuesday, June 24, Dr. Simon Kipersztok from Shady Grove Fertility's Waldorf, MD office was joined by his patient Tameenah Adams Flores on NBC4's Midday News for an educational and touching interview about infertility and the African American community. Citing a recent story in The New York Times with data indicating that double the number of white women seek treatment than their minority counterparts, anchor Barbara Harrison described the segment as the audience's chance to get "a personal perspective of infertility affecting women of color" with Dr. Kipersztok and Tameenah educating the viewers.
Dr. Kipersztok explained that while age is the main factor for infertility, for African Americans especially in lower socioeconomic conditions, current insurance restrictions make it more difficult to receive comprehensive infertility care. For many qualified patients, Shady Grove Fertility offers an array of financial assistance packages including the Shared Risk Guarantee Program where for one flat fee for up to six IVF treatments, patients are guaranteed a baby or the entire fee back.
Turning to Tameenah, Harrison asked her how she came to be a patient at Shady Grove Fertility. While she had discussed a previous tubal ligation with her doctor, she decided to look online for treatment which had not been mentioned before. Tameenah said, "When I found Shady Grove Fertility Center it was a relief because I hadn't seen any images that resembled who I was."
For Tameenah and so many women like her, taking the brave step to address infertility was just the beginning. As Dr. Kipersztok told Harrison, "We mapped a plan to get her (Tameenah) from point 'p' problem to point 'b' baby." This map included losing weight and managing her diabetes before beginning fertility treatment. Tameenah left Dr. Kipersztok's office and walked by a sign encouraging patients to join Shady Grove Fertility's Facebook page. There, Tameenah found a support group that had the same goal: get to point B, baby.
Emphasizing Shady Grove Fertility's personal commitment to every single patient Dr. Kipersztok and his staff began cheering for her. Tameenah, along with her support group, worked together to overcome infertility and over the course of the last year each woman has had a baby of her own.
As the interview came to a close, Harrison emphasized Tameenah and Dr. Kipersztok's message one final time that women, especially women of color, should seek help, Tameenah agreed saying, "Most definitely, perseverance is key."
Watch Dr. Kipersztok and Tameenah on NBC4 Midday.
Read more about infertility and the African American community.
###
About Shady Grove Fertility: Shady Grove Fertility is America's largest and most progressive fertility center performing over 6,000 IVF cycles, including over 1,000 egg donation cycles, and an equal number of ovulation induction and IUI cycles annually. Twenty-eight reproductive endocrinologists as well as PhD scientists, geneticists and 480 highly specialized staff care for patients in 17 full-service offices and 4 satellite locations throughout the Philadelphia, Baltimore, and Washington, DC