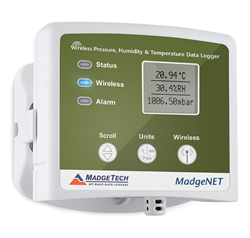 (PRWEB) June 30, 2014
Japan and China are being added to a list of over 50 countries worldwide where MadgeTech wireless data loggers are compliant with national standards and available for purchase. Other countries on this list include Australia, Canada, Germany, and South Africa. All sales globally are supported by qualified sales personnel for both pre- and post-sale advice and service to sustain the excellent level of customer service that MadgeTech is known for.
"We are excited to expand our coverage and provide customers in Japan and China with wireless data logging solutions. The wireless capability provides customers with a continuous environmental monitoring system," says MadgeTech Sales Director, Tabitha Lemelin. "This data logging series includes devices capable of monitoring temperature, humidity, current, voltage, pulse, and pressure. With customer feedback, the offerings could potentially expand."
To learn more and see our complete line of products, please visit http://www.madgetech.com. For additional information or sales assistance, email sales(at)MadgeTech(dot)com or call our knowledgeable sales staff at (603) 456-2011 today. Customers local to those regions can also contact our certified MadgeTech Distributor in Japan, MK Scientific Inc., at info(at)mksci(dot)com.