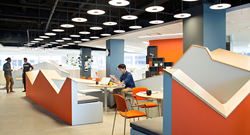 San Francisco, CA (PRWEB) June 27, 2014
San Francisco Travel has moved to new offices that are as exciting and unique as the destination that the organization has promoted since 1909. The new headquarters on the 29th floor at One Front Street has been created to reflect the spirit and creativity of the city while incorporating cutting edge design, a preference for local artists and materials and a commitment to sustainability.
"We want our offices to reflect the very traits that make San Francisco unique and wonderful," said San Francisco Travel President and CEO Joe D'Alessandro. "Our people, our destination and our space are all aligned around the same characteristics of innovation, creativity and collaboration."
With sweeping 270-degree views of the city, the environment is a constant inspiration to the staff that "sells" San Francisco. They now inhabit an environment designed to encourage creativity, working together and looking at things from new perspectives.
San Francisco Travel's mission is to enhance the local economy by marketing San Francisco and the Bay Area as the premier destination for leisure travel, conventions, meetings and events.
Rapt Studio designed the offices. With a client base that includes Google, The North Face, Adobe Systems, Campari and many more, Rapt combines various design expertise to deliver holistic brand experiences. San Francisco Travel's office showcases Rapt Studio's unique approach to integrated workspace design becoming an interface between a company's brand and culture, http://www.raptstudio.com.
"This has been a very exciting project," said Hakee Chang, senior designer at Rapt Studio. "The building's very location – at the crossroads of the thriving Financial District and the booming South of Market area – speaks to San Francisco Travel's mission to reflect the pulse of the city and keep the tourism industry growing. San Francisco Travel had a distinct vision for their space, and we were able to capture this through design that motivates and inspires their employees."
The unique features of this new environment are apparent upon arrival and continue throughout the entire floor.

In the elevator landing, a tower of the Golden Gate Bridge reaches dramatically from the floor, up the 10-foot walls and across the ceiling. The mural was created by San Francisco Travel employee and spray paint artist Mario Sanchez and friend Robert Gonzales.
True to San Francisco, technology plays an integral role throughout the offices. Visitors are greeted on arrival by a monitor welcoming guests and providing information on current meetings and events, weather, trivia and other news.
Natural light draws visitors into the reception area where a large video screen shows inviting scenes of the destination from San Francisco Travel's latest productions. An expanse of windows frames the neighborhood's iconic towers, architecture and scenery outside the 29th floor windows.
Even the ceiling of the entry way is San Francisco-themed with an undulating surface reminiscent of the city's famous hills.
Meeting rooms are named after neighborhoods throughout the city, such as Bayview, SOMA, Fillmore/Japantown, Nob Hill, Castro, Sunset, Chinatown and Mission. The Haight and Ashbury rooms have a removable air wall so they can be combined or used separately to host meetings.
A large illustrated map of San Francisco - an original design in marker on drywall created by Rapt Studio - gives a lighthearted overview of the city's many neighborhoods, icons and characteristics.
Rapt created several "engagement areas" allowing for greater activation throughout the offices. An oversized floor-to-ceiling map of the city encourages staff or guests to share their latest discoveries on a wipe-board wall. Another nearby wall features a collage of individual candid staff photos.
The "open office" creates a spacious environment that encourages communication and collaboration between colleagues. Corridors around the perimeters of the work stations are called "collision spaces" where team members may have impromptu meetings with others they happen upon.
At the center of the office space is an area called the Hearth, a place designed for eating and working. The low walls separating the Hearth from the rest of the office are angled at the top to represent the varied skyline of the city and the hills beyond. The irregular-shaped seating areas resemble the parklets found throughout San Francisco.
"Our new building is LEED Gold Certified, but we are making bold choices to achieve Green Business Certification too. We believe this is a rare step in the world of destination marketing organizations," D'Alessandro added. This will be accomplished through the use of repurposed and salvaged materials, LED lighting and views and daylight accessible to all. The company strives to be a "paperless" office with less waste and more connectivity.
In addition to reducing the environmental footprint, the organization's physical footprint will shrink as well, reducing square footage by about five percent to 19,000 square feet.
Flooring in some areas is made by Net-Works, a project of Interface Flor. http://www.interface.com/US/en-US/about?cmsContent=%2Fpressroom%2FNeoCon-2013-Release.html. Net-Works provides a source of income for small fishing villages in the Philippines while cleaning up their beaches and waters of discarded fishing nets that threaten their livelihood and the very precious double barrier reef off their shore. Discarded fishing nets are collected and sold to a yarn supplier and partner, Aquafil.
In true San Francisco spirit, local designers and manufacturers were used whenever possible. Furniture and features throughout the offices were provided by designers with Bay Area provenance. Among them are:
In the Presidio conference room off the lobby, the rug is handmade from retired fire hoses salvaged from fire departments in San Francisco, Berkeley, and Oakland by Oxgut Hose Company, http://oxgut.com, in nearby Emeryville. Graham Design, http://www.grahamdesignsf.com, established in San Francisco in 1999, provided the coffee table. The lounge seats were created by East Bay-based Jess Sorel, http://sorel-studio.com/sorelstudio/home.html.
David Pierce, founder and designer of OHIO Design in the Mission District, http://ohiodesign.com/, created wood top tables for the Presidio room.
The pendant lighting in the Presidio room, the Hearth and a hallway was designed by Pablo, http://pablodesigns.com/about/, founded in San Francisco in 1993 by Venezuelan-born industrial designer Pablo Pardo.
In the Haight and Ashbury boardroom and the Hearth, tiles by Sausalito's Heath Ceramics, http://www.heathceramics.com, were selected.
Hightower Scoop chairs are featured in the Embarcadero room. Hightower Pause chairs are used in the Haight and Ashbury boardroom. Two of the three founders of this North Carolina-based company reside in San Francisco.
Most Modest, http://mostmodest.com, a San Francisco-based design studio specializing in craft inspired technology goods designed the lobby seating.
All furniture upholstery is by Luna Textiles, http://www.lunatextiles.com/company.cfm, founded in San Francisco in 1994.
A wall planter system by Urbio, http://www.myurbio.com, adds live and flowering plants to the columns.
One Front Street was built in 1982 by SOM (Skidmore, Owings & Merrill), the same team that has been selected for the upcoming expansion and improvement of Moscone Center. The firm still resides in the building.
Arts and culture are also an integral part of San Francisco that will be reflected in the new offices.
Twenty works by notable Bay Area artists will be displayed throughout the new office space. Most of the artists selected are members of Artspan, an organization representing Bay Area artists and a longtime collaborator with San Francisco Travel.
The SOMA meeting room features a print by Rex Ray, http://www.rexray.com/studio/rexraystudio-news.htm, a nationally regarded artist and graphic designer who has created works for Apple, Dreamworks, Sony Music, Warner Brothers, Matador Records, David Bowie, Bill Graham Presents, the Rolling Stones, REM and U2. His works have been exhibited at SFMOMA, the University Art Museum in Berkeley, San Jose Museum of Modern Art, the Crocker Museum in Sacramento and other venues.
The Bayview meeting room showcases longtime Bayview resident Ron Moultrie Saunders, http://www.ronmsaunders.com, a photographic artist, landscape architect and teacher. Born in Jamaica, Queens, New York, he moved to San Francisco in 1982 after receiving his Master's in Landscape Architecture from the University of Pennsylvania. Between 1983 and 2001 he partook in photography workshops with renowned photographers including, Ruth Bernhard, Cole Weston, Mark Citret and Frank Espada. Saunders work is in the San Francisco Arts Commission collection which includes a special commission in the new Bayview Branch of the San Francisco Public Library, which opened to the public in February of 2013. His work has been exhibited throughout the U.S. In 2014, Shipyard Trust for the Arts (STAR) named Saunders as their first professional, established artist to the Artist in Residence program. The invitation-only program is offered to established, mid to late career, professional exhibiting artists.
Etchings by 1906 earthquake survivor Alexander "Alec" Stern (1904-1994) depict icons related to the neighborhoods in their namesake meeting rooms including Marina, Fisherman's Wharf, Chinatown and North Beach.
Works by notable San Francisco graphic designers include Arin Fishkin, Michael Murphy, Hilary Williams, and Becky Hue Chan whose prints will be displayed in the Castro, Nob Hill, Mission and Sunset rooms.
San Francisco Travel's existing collection includes works by Alex von Wolff, Courtney Jacobs, Ann Elliott and an original work by Paul Madonna, author of two books, a weekly series in the San Francisco Chronicle and the recipient of many art awards and accolades.
The building is owned by Florida State Board of Administration. Sean McCallum and Brad Werner with Cassidy Turley represented San Francisco Travel in the transaction. Additionally, Cassidy Turley's Project and Development Services were also contracted, with Rick Couer and Peter Frisco of the firm leading the effort in the assignment. The construction work was completed by Skyline Construction.
A few things won't change. The phone numbers and email addresses remain the same. And the Visitor Information Center remains in place on the lower level of Hallidie Plaza, 900 Market Street at the corner of Powell and Market streets.
Senior Director of Creative Services Cindy Hu, who first started with the organization in 1971, puts things in a historical perspective: "Back when we were the San Francisco Convention & Visitors Bureau, our offices were at 1375 Market St., "south of the slot" as old-timers used to say. This was in 1964, long before Twitter and Square moved into the South of Market area. Press releases were mimeographed on goldenrod paper stock and to reach us, you dialed UNderhill 3-2615. A few years later in 1967 we moved north of Market to the Fox Plaza at 1390 Market St., where we remained for several decades until 1983 when we moved south of Market again to 201 Third St., shortly after Moscone South was completed in December, 1981. And now as that neighborhood has grown up around us, we are once again moving north of Market to One Front Street."
The San Francisco Travel Association is a private, not-for-profit organization that markets the city as a leisure, convention and business travel destination. With more than 1,500 partner businesses, San Francisco Travel is one of the largest membership-based tourism promotion agencies in the country. Tourism, San Francisco's largest industry, generates in excess of $8.9 billion annually for the local economy and supports over 74,000 jobs.
For more information, call 415-974-6900 or visit http://www.sanfrancisco.travel.
San Francisco International Airport (SFO) offers non-stop flights to more than 34 international cities on 29 international carriers. The Bay Area's largest airport connects non-stop with 78 cities in the U.S. on 15 domestic airlines. SFO is proud to offer upgraded free Wi-Fi with no advertising. For up-to-the-minute departure and arrival information, airport maps and details on shopping, dining, cultural exhibitions, ground transportation and more, visit http://www.flysfo.com. Follow us on http://www.twitter.com/flysfo and http://www.facebook.com/flysfo.
American Express® is the official Card partner of the San Francisco Travel Association.
# # #
Note to editors: Photos are available at https://www.facebook.com/media/set/?set=a.857358730959638.1073741838.475001459195369&type=1
For news and story ideas, follow @SFMediaRelation on Twitter. Photos and press releases are available at http://www.sanfrancisco.travel/media/.