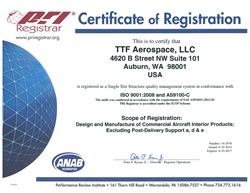 Seattle, WA (PRWEB) June 28, 2014
TTF received ISO 9001:2008 and AS9100 Rev. C, Certificate of Registration on June 19, 2014. Scope of registration is Design and Manufacture of Aircraft Interior Products.
TTF Aerospace successfully underwent the final AS9100 Stage 2 Registration Audit June 2nd through June 10th 2014. This was the culmination of a company wide effort to establish standardized processes and procedures that are necessary for an effective Quality Management System and AS9100 Registration. This extensive audit determined all necessary processes and procedures were deployed and functioning effectively.
TTF Aerospace, established in 1999, manufactures Galleys, Lavatories, Crew Rests, Stow Bins, Closets and many other aircraft interior components in their new state of the art, 70,000 square feet manufacturing facility in the Pacific NW Aerospace Manufacturing Zone. TTF Aerospace holds numerous STCs and several patents for designs and components, and continues to develop new unique, quality products, as evidenced by a Crystal Cabin Award in 2012 for the new T-Skin TM finish surface liner.
Visit http://www.ttfaero.com for more information on their products and services.