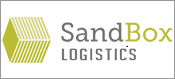 We look forward to assisting Liberty in delivering the most reliable, cost-effective oilfield services available in the market.
Houston, Texas (PRWEB) July 07, 2014
Today, SandBox Logistics ("SandBox") signed a 5-year contract with Liberty Oilfield Services, ("Liberty") to deploy its proprietary system for the transportation, site-storage and delivery of frac sand to Liberty's wellsite operations in the DJ Basin of Colorado. Through its patented sand delivery process and containerization equipment, SandBox has the ability to increase operational efficiency by eliminating many of the logistics problems and transportation bottlenecks that are common in the industry. The system also substantially reduces silica dust and noise pollution, improving both environmental conditions and safety at frac operations. The initial deployment will be in support of Liberty's DJ operations, with plans to expand into additional producing regions served by Liberty.
Commenting on the agreement, Josh Oren, President and CEO of SandBox Logistics, said "We are very pleased to begin this important relationship with Liberty. The Liberty Team has a clear vision to become a leader in the industry and we are delighted to be associated with a company that is so resolutely dedicated to innovation and efficiency. The collaborative effort that led to this agreement is a big win for SandBox, Liberty and the customers that they serve. SandBox looks forward to assisting Liberty in delivering the most reliable, cost-effective oilfield services that can be found in the market."
Also commenting, Jim Brady, Liberty's Vice President of Operations, said, "We are really excited to be working with SandBox and believe that they offer us a truly innovative approach to better manage the growing logistics challenges associated with proppant delivery. Our customers demand better solutions and Liberty is committed to finding innovative and more cost-effective ways to do just that. SandBox is a very effective way for us to highlight our commitment to customers, as well as to create a safer and greener work environment."
ABOUT SANDBOX
SandBox™ provides the trans-loading, storage, and last mile delivery of frac sand used in the hydraulic fracturing process. Through the use and application of SandBox's™ patented sand management processes and mobile ISO containers, SandBox™ effectively eliminates rail and truck demurrage. Trucking costs are significantly reduced because specialized equipment is no longer required to deliver frac sand from the sand distribution centers to the wellsite. Additionally, SandBox™ provides immediate frac sand storage capacity in the most remote regions, enabling trans-loading, storage and last mile delivery in new shale developments where rail and storage infrastructure is limited. SandBox™ - Trans-loading, Storage, Last Mile Delivery…Think inside the Box.
Additional information on SandBox Logistics is available at http://www.sandboxlogistics.com.
ABOUT LIBERTY
Liberty Oilfield Services is an innovative oilfield service company providing specialized stimulation services to optimize well production. We focus on offering safe, efficient and high-quality hydraulic fracturing services, aiming to become the vendor of choice for operators in several high frac-intensity basins in the United States. Our goal is to provide frac design and execution with a real-data focus to optimize field development and improve production enhancement strategies for our clients.
Additional information on Liberty Oilfield Services is available at http://www.libertyfrac.com