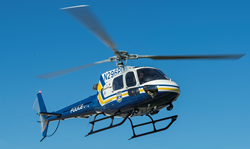 GRAND PRAIRIE, Texas (PRWEB) June 26, 2014
The Philadelphia Police Department has taken delivery of the first of two new Airbus Helicopters AS350B2 AStar helicopters, becoming the latest in a long and growing list of U.S. law enforcement agencies to utilize this high performance aircraft produced by Airbus Helicopters Inc. (AHI).
"We're very happy with the completion of our first helicopter," said Capt. Kenneth O'Brien, head of the Philadelphia Police Department's Aviation Unit. "We'll be a more capable aviation unit with this upgraded aircraft."
Philadelphia police will utilize the new helicopter for general patrol duties, harbor and coastal patrol, rescue missions and SWAT team insertions. With the additional power and capability of the AS350B2, the police department will now be able to perform hoist rescue missions. The helicopter will also be used for homeland security and port security missions.
"When the Philadelphia Police Department decided to expand its fleet, there was a great deal of discussion within the industry as to who would ultimately be chosen to fulfill those needs," said Ed Van Winkle, Sales Manager for Airborne Law Enforcement for Airbus Helicopters Inc. "We are extremely proud that our AS350B2, the helicopter of choice for demanding law enforcement missions, was ultimately selected. The flexibility of the AS350-series, along with the multi-mission capability and low acquisition cost, continue to make it a highly sought-after helicopter."
AHI leads the U.S. market in sales of new helicopters to federal, state and local law enforcement agencies, maintaining a 56 percent market share over the last decade. The spacious cabin and numerous modern safety features of the AS350 series, including energy-attenuating seats and dual-screen Vehicle and Engine Multifunction Display, make the AStar an industry leader.
Airbus Helicopters' AS350 line are the most widely used helicopters by U.S. law enforcement agencies with more than 220 in use across the country. Built and certified by Airbus Helicopters Inc. in Columbus, Miss., this cost-effective helicopter cruises at 133 kts and has a range of up to 360 nautical miles with the power of its 732-shp Turbomeca Arriel 1D1 turboshaft engine.
About Airbus Helicopters Inc.
Airbus Helicopters Inc. (AHI) is the U.S. affiliate of Airbus Helicopters, the largest helicopter manufacturer in the world, and a subsidiary of the Airbus Group. Airbus Helicopters Inc. is a manufacturer, markets, sells and supports the broadest range of civil and parapublic helicopters offered in the U.S. The product line represents the industry's most cost-effective, technologically-advanced helicopters serving all markets and missions. The company's headquarters and main facility are in Grand Prairie, Texas with a large manufacturing and production facility in Columbus, Miss.