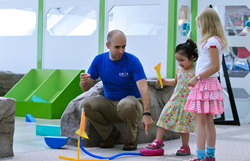 Chicago, IL (PRWEB) June 28, 2014
On Monday, June 30, the Adler will launch Young Explorers Mondays, a weekly series of hands-on activities that promote creativity, fun and scientific investigation. Every Monday, from 9:30 a.m. to 1 p.m., this family program will feature engaging early childhood, age-appropriate activities created specifically for children ages 2-6.
"We've seen some parents intimidated by science education because they think they need special skills or materials. Young Explorers Mondays offers a chance for families to learn together in fun and accessible ways," said Sarah Cole, Adler Planetarium Vice President of Visitor Experience. "Science is about exploration, and no one is better at exploring than a young child. Our goal is to provide starting inspiration for families to continue these activities on their own."
At Young Explorers Mondays, families can play, learn, and have fun together through hands-on science exploration activities each week. Families can explore the secrets of flight by building their own glider, kite, parachute or jetpack in the Adler's Planet X Lab. Visitors can also explore at the Sensory Station, where kids and adults work together to dodge balloon asteroids, create constellations, manipulate "moon sand" and much more.
The weekly program kicks off on Monday, June 30, in the Planet Explorers exhibition with Stories Under the Stars, a story time featuring a reading of "Curious George and the Rocket" and a special appearance from Curious George™ himself! Check the Adler website for story time and walk around Curious George appearances.
Families can continue the fun and learning by visiting the Adler's interactive exhibitions and immersive shows including One World, One Sky: Big Bird's Adventure. In this planetarium show designed for young children, Big Bird, Elmo and their friend from China, Hu Hu Zhu, take audiences on a tour of the night sky to the Big Dipper, the North Star, the Sun and the Moon.
The best way to experience Young Explorers Mondays each week, or to visit the Adler any time, is with an Adler membership. All members enjoy exclusive benefits, including free general admission and access to all shows, discounts in the café and store, a subscription to the member magazine, invitations to exclusive member events, free coat check, a members-only admission line and more.
Young Explorers Mondays activities are included in paid general admission. General admission (not including shows) is $12 for adults, $10 for seniors/students with ID and $8 for children (ages 3-11). Guests can add the One World, One Sky: Big Bird's Big Adventure show to their visit with the purchase of a Basic Pass at $24.95 adult//$19.95 child. Chicago residents receive a $2 discount on adult admission packages and a $3 discount on child admission packages with proof of residency. Prices and packages are subject to change.
For show times, admission and membership details call 312.922.7827 or visit adlerplanetarium.org.
About the Adler Planetarium
The Adler Planetarium—America's First Planetarium—was founded in 1930 by Chicago business leader Max Adler. A recognized leader in public learning, the Adler Planetarium inspires young people to pursue careers in science, technology, engineering and math. Scientists, historians and educators at the museum inspire the next generation of explorers.