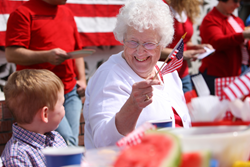 Make the best and most affordable July 4th party.
Austin, TX (PRWEB) June 28, 2014
Shop RTO website offers the following tips to make the July 4th celebration at home the best. The following tips are meant for those planning to host a gathering of 8 or more people at their home.
Shop RTO's audience is the hard working American so it offers tips to make the event as cheap and easy as possible.
Begin with the party motif. Since it is July 4th, the theme is obvious with red, white and blue. Purchasing streamers, flags, plates and napkins are the easiest way to push the motif and are the most popular.
All sorts of stores are competing for business so there will be sales everywhere. Scan the internet or paper for the best deals. Encourage guests to dress up in festive wear or to bring their own elements showing the American spirit.
The site states that food and music are the basis for a great party. Regarding food, make it a potluck celebration. Guests are more than happy to share their recipes and help out with the party. It also offers variety to the menu and to spread the cost and time throughout the group.
Make sure to be healthy, offering fruits and vegetables. Watermelon is the most symbolic for July 4th. If there are alcoholic beverages, strongly encourage guests to have a designated driver and do not let guests drive home drunk.
Set up the stereo system or one or more speakers outside so music can be heard both inside and outside. If a TV is on, make sure it's showing thematic programming such as a baseball game. They also recommend themed movies such as Independence Day and Field of Dreams as examples.
Have a set of games available. Ask guests to bring their fun games as well. Playing cards, dominoes and board games are the most popular. Set up tournaments to keep it fun and interesting.
Active games such as basketball, badminton, volley ball are great for the kids and adults. They also help an active lifestyle and wear guests out. If the kids have to play video games, make sure they're motion games to keep them active.
Other tips listed is to provide sunblock and lots of water. Make sure enough ice chests are available and clean out the refrigerator prior to maximize space. And to make sure. Cover food away from flies and monitor foods that could spoil.
Shop RTO promotes rent to own home furnishings as a path to a comfortable home within a constrained weekly or monthly budget. Citing everything a home needs to accommodate family and guests, rent to own stores may be an option to consider when furnishing a home or renting items for the party.
About ShopRTO:
ShopRTO.com provides consumers home living and decorating tips and rent to own as a shopping option for affordable home furniture and more.