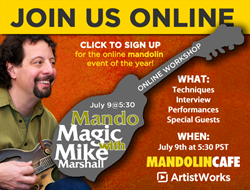 This live streaming event takes place online on July 9th at 5:30 PM Pacific Time/8:30 PM Eastern Time and will be moderated by Mandolin Cafe Founder, Scott Tichenor.
Napa, CA (PRWEB) July 01, 2014
ArtistWorks, the leading provider of interactive online music lessons, has teamed up with Mandolin Cafe to present a rare, live online workshop with world-renowned mandolin player, and ArtistWorks Academy of Bluegrass online teaching artist, Mike Marshall. Since 2011, Marshall has taught hundreds of mandolin enthusiasts online at this first-of-its-kind online music and art campus that provides members with personalized instruction via video interaction with world-acclaimed musicians and artists.
This live streaming event takes place online on July 9th at 5:30 PM Pacific Time/8:30 PM Eastern Time and will be moderated by Mandolin Cafe Founder, Scott Tichenor. The event will feature Mike talking about his history with the mandolin, playing some tunes and teaching techniques for everything from bluegrass to jazz and classical. Fellow ArtistWorks' instructor, Andy Hall (Dobro), mandolin students and other special guests, will be on hand to join in the fun.
Mike Marshall started his career with the Dave Grisman Quintet, played with everyone from Stephane Grapelli to Jerry Douglas to Béla Fleck and his frequent collaborator, Darol Anger. He has done stints with the group Montreux, and his current experimental bluegrass group, Psychograss, with fellow Academy of Bluegrass teachers, Darol Anger and Tony Trischka.
During the event, Mike will give out a special code, which will give an event discount to new members joining his school. "Using Video Exchange™, I constantly interact online, helping the students at my online mandolin school improve their playing," said Marshall. "I'm looking forward to broadening that musical discussion to a wider audience."
Marshall's students begin with access to dozens of pre-recorded online mandolin lessons, tabs and backing tracks and then, whenever they want feedback, they use ArtistWorks Video Exchange™ Feedback Platform to submit practice videos to him for review. He responds to each individual with a video detailing their strengths and providing additional exercises to shore up weak points. Each student/teacher video exchange is viewable by all students of that school, creating a constantly growing library of customized, interesting and useful additional lessons. Membership starts as low as $90 for three (3) months.
To sign up for the live online event on July 9th at 5:30 p.m. Pacific Time/8:30 PM Eastern time, get the URL where it will stream live and receive an event reminder, click here.
About ArtistWorks, Inc.
In 2008, former AOL executive, David Butler, set out to finally master jazz guitar. With no acceptable teachers in his area, he built a revolutionary online system to enable anyone to get direct feedback from a master teacher anywhere in the world. Founded by David and former financial executive, Patricia Butler, ArtistWorks, Inc., is the leader in a new generation of online learning platforms. This "next generation" Video Exchange™ Feedback Platform enables world renowned artists and musicians to "teach the world" by presenting their artistic legacy in the form of HD video lessons and direct feedback to subscribing students. Utilizing simple web cams, smartphones, tablets or video cameras, students are able to submit practice videos and get individualized video feedback and guidance from their teaching artists – creating a constantly evolving two-way, online learning experience. Tens of thousands of members in nearly 100 countries have improved their playing within ArtistWorks' 25 different schools, each their own unique online learning community.
ArtistWorks currently offers schools from such world-class artists as: Paul Gilbert (rock guitar lessons), Martin Taylor (fingerstyle guitar lessons), Chuck Loeb (jazz guitar lessons), Jason Vieaux (classical guitar lessons), Nathan East (electric bass lessons), John Patitucci (jazz bass lessons), Andreas Oberg (gypsy and jazz guitar lessons), Jeannie Deva (singing lessons), Nathan Cole (violin lessons), Jeffrey Khaner (flute lessons), William Caballero (French horn lessons), David Bilger (trumpet lessons), Ricardo Morales (clarinet lessons), Howard Levy (harmonica lessons), DJ Qbert (DJ lessons), Christie Peery (piano lessons), Luis Conte (percussion lessons), as well as the ArtistWorks Academy of Bluegrass with Tony Trischka (banjo lessons), Missy Raines (double bass lessons), Bryan Sutton (flatpick guitar lessons), Andy Hall (Dobro lessons), Mike Marshall (mandolin lessons), Darol Anger (fiddle lessons), Free Acoustic Guitar Lessons with Scott Law, and Justin BUA (art lessons). For more information, visit ArtistWorks.com.
About Mandolin Cafe
Launched in 1995, the Mandolin Cafe is a website devoted to all things mandolin family related, but also welcomes stringed instrument musicians from guitars to banjos and fiddles to ukuleles. With a community forum approaching 40,000 members, a busy Classifieds and musical resources including chord libraries, lessons, historical information and scores to music in various formats, the Mandolin Cafe is the web's virtual water cooler for all things stringed instrument-related, and is one of the longest running acoustic music sites on the internet. For more information, visit http://www.mandolincafe.com.