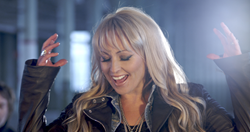 London (PRWEB UK) 28 June 2014
After enjoying chart success with her first single 'Hard Road' in the UK and Europe, North Country Rock singer/songwriter Rebecca Bains, is now poised to take to the USA. Recently a large poster of Rebecca promoting her first single appeared on the Thompson Reuters Sign located at 43rd Street and 7th Avenue in Times Square.
Times Square, in New York, was in 2011 the most visited tourist attraction in the world with 39 million people visiting the site every year. Around 330,000 people pass through Times Square every single day. The added benefit of this valuable advertising site is the fact that like the city of New York, Times Square never sleeps with a large amount of tourists showing up to look around between 7pm and 1am. Rebecca appeared on the famous sign and was seen by thousands of people.
"It is an honour and a privilege to appear on Times Square. It is one of the most iconic places in the world for music and the arts, and to think our poster appears on one of those billboards is really wonderful. It is a collaborative effort and I am very thankful to the whole team for making this happen," said Rebecca on being featured in Times Square.
Rebecca's next frontier is America where her brand of music is extremely popular. Producing soulful, catchy country rock music but with her own undeniable unique sound she hopes to make a serious impact stateside and appeal to the wide fan base over there.
Rebecca continued, "Our music is inspired by real life, real people and events. In a world where things can be tough sometimes, we just want to make audiences feel uplifted and I guess bring some light to a world that can be murky sometimes. We've noticed when people feel happier they tend to be nicer to one another so how cool would it be to spread that feeling far and wide? We already have a great following in the US, so we can't wait to get out to the States very soon."
"The American Country and Rock and Roll masters have influenced me massively and when you mix that with other influences and my own northern British classical background I guess it has made a pretty original sound. We are really pleased it's being so well received by fans in the US," said Rebecca.
About Rebecca Bains
Rebecca Bains is a singer songwriter bursting on the music scene with a sound that combines elements of country, pop and rock. Her songs are full of catchy melodies, provocative lyrics and the soul in her voice comes through in a musical style that marries all this in her own compositions. Whether a haunting ballad or 'bar brawl' rock, her unique sound shines through in every note.
Born in Yorkshire to a working class family, Rebecca is extremely proud of her heritage. Her mother and grandmother were Opera singers, and her father was a musician too. Rebecca's influences are diverse. There is a list of artists she admires and for a host of different reasons: Bob Dylan, Bruce Springsteen, Johnny Cash, Kate Bush, Muse, Coldplay and Pink are just a few in the list of artists who have had a direct and lasting impact on her musical style.
Rebecca's music does seem to carry a unique message of light and her live performances are uplifting events. She is a big animal lover and takes her staffy rescue dog to every recording session. Her single 'Hard Road' is out now and various tours are planned to coincide with the release.