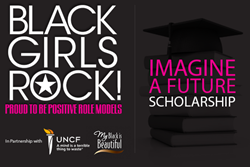 The award is aimed to offer financial assistance to "dynamic young women in pursuit of higher education."
Washington (PRWEB) June 26, 2014
UNCF (United Negro College Fund) has combined its mission-based efforts with BLACK GIRLS ROCK! Inc. and Procter & Gamble's (P&G) My Black is Beautiful campaign to present the BLACK GIRLS ROCK! Imagine a Future scholarship. The award is aimed to offer financial assistance to "dynamic young women in pursuit of higher education."
"We couldn't be more excited to support these young women in reaching their scholastic goals," stated Paulette Jackson, Vice President of Development at UNCF. "Corporate partnerships, such as the one between UNCF, BLACK GIRLS ROCK! and Procter & Gamble, are essential to supporting college students' success. This partnership, in particular, is a major investment in the Better Futures of our young people, our community and the country."
The BLACK GIRLS ROCK! Imagine A Future Scholarship, which is made possible through the generosity of P&G and the combined mission-based work of UNCF, BLACK GIRLS ROCK! and My Black is Beautiful, was established to reach and teach one million black girls over three years through tools and solutions that include financial assistance to dynamic young women in pursuit of higher education. Through the My Black is Beautiful Imagine a Future initiative, each BLACK GIRLS Rock! Imagine A Future scholarship recipient will receive $5,000 to be used toward tuition or other educational expenses at their respective schools.
"We received over a thousand applications for the BLACK GIRLS ROCK! Imagine a Future Scholarship and executed a rigorous selection process in order to determine the five finalists for this award," said BLACK GIRLS ROCK! Founder/Executive Director, Beverly Bond. "The candidates for this award truly represent the breadth of talent and the deep commitment to community development possessed by our young Black female scholars across disciplines. We are so honored to use our platform and philanthropy to help these young women cultivate the knowledge, skills, and life-experiences that will make them the confident leaders and bold trailblazers of our future!"
This year's BLACK GIRLS ROCK! Imagine a Future Scholarship recipients hail from Bennett College (Greensboro, NC), Binghamton University (Binghamton, NY), Howard University, (Washington, DC) and Spelman College (Atlanta, GA).
"These young ladies are the epitome of what the Imagine A Future program is all about. It's our privilege to celebrate their commitment to academic excellence, leadership and community service," said Crystal Harrell, senior manager, P&G Communications. "We are proud to support their efforts to imagine a beautiful future for themselves and their communities."
ABOUT UNCF
UNCF (United Negro College Fund) is the nation's largest and most effective minority education organization. To serve youth, the community and the nation, UNCF supports students' education and development through scholarships and other programs, strengthens its 37 member colleges and universities, and advocates for the importance of minority education and college readiness. UNCF institutions and other historically black colleges and universities are highly effective, awarding 20 percent of African American baccalaureate degrees. UNCF administers more than 400 programs, including scholarship, internship and fellowship, mentoring, summer enrichment, and curriculum and faculty development programs. Today, UNCF supports more than 60,000 students at over 900 colleges and universities across the country. Its logo features the UNCF torch of leadership in education and its widely recognized motto, "A mind is a terrible thing to waste."® Learn more at http://www.UNCF.org
ABOUT BLACK GIRLS ROCK! ™ INC.
BLACK GIRLS ROCK!™ Inc., a 501(c) 3 not-for-profit organization dedicated to promoting positive and diverse images of women of color in mass media. Since 2006, BLACK GIRLS ROCK! has been committed to the healthy development of young women and girls by providing art-based enrichment, leadership development, and critical cultural literacy programs. For additional information on BLACK GIRLS ROCK!™, visit http://www.blackgirlsrock.org.
ABOUT P&G
P&G serves approximately 4.8 billion people around the world with its brands. The Company has one of the strongest portfolios of trusted, quality, leadership brands, including Ace®, Always®, Ambi Pur®, Ariel®, Bounty®, Charmin®, Crest®, Dawn®, Downy®, Duracell®, Fairy®, Febreze®, Fusion®, Gain®, Gillette®, Head & Shoulders®, Iams®, Lenor®, Mach3®, Olay®, Oral-B®, Pampers®, Pantene®, Prestobarba®, SK-II®, Tide®, Vicks®, Wella®, and Whisper®. The P&G community includes operations in approximately 70 countries worldwide. Please visit http://www.pg.com for the latest news and in-depth information about P&G and its brands.
CONTACT: Joi C. Ridley
Joi(dot)Ridley(at)uncf(dot)org
202.810.0225