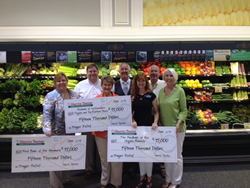 Matthews, N.C. (PRWEB) June 27, 2014
Harris Teeter announced today that is donating $45,000 to three food banks in the Hampton Roads area.
During a check presentation held at Harris Teeter's Greenbrier Market location, District Manager Shawn Helton presented $15,000 checks to Food Bank of the Albemarle, The Foodbank of the Virginia Peninsula and the Foodbank of Southeastern Virginia and the Eastern Shore to help those organizations provide hunger relief to people in need in the community.
"These funds come at a critical time for us -- children are out of school and no longer receiving free or reduced price meals while at the same time our donations tend to decrease in the summer," said Karen Joyner, chief executive officer of the Virginia Peninsula Foodbank. "We are grateful to Harris Teeter for their generous support at this time."
"Harris Teeter has been actively engaged in hunger relief for many years," said Liz Reasoner, executive director of the Food Bank of the Albemarle. "We are proud to showcase their support and delighted to have Harris Teeter's continued support in the fight to end hunger in northeastern North Carolina."
"Solving the issue of hunger is truly a team effort," said Marianne Smith Vargas, chief philanthropy officer for the Foodbank of Southeastern Virginia and the Eastern Shore. "Having strong partners, like Harris Teeter, means we can provide more meals to children, seniors, and families who are struggling, and come closer to our vision of a hunger-free community."
According to the 2014 Map the Meal Gap study, an analysis by Feeding America of overall and child food insecurity in the United States, the food insecurity rate in Virginia, based on 2012 data, is 12.1 percent or nearly 994,000 people. North Carolina's overall food insecurity rate is 18.6 percent, and according to Food Bank of the Albemarle, 19.5 percent of people in its northeast North Carolina coverage are food insecure.
"Harris Teeter's charitable focus is that of supporting its hunger-relief partners in each of the Company's marketing areas," said Catherine Becker, communication manager for Harris Teeter. "We applaud all of their work to help those who are food insecure, and we will continue to support those efforts."
To learn more about hunger in America, visit feedingamerica.org.