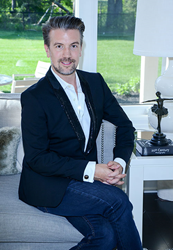 My ultimate vision: a modern interior with a gracious nod to the traditional. It's elegantly sublime with a sophisticated twist.
Ontario, Canada (PRWEB) June 26, 2014
Interior designer Andrew Pike is known for his innovative and contemporary designs and one-of-a-kind interiors that have been featured on HGTV's "Design Rivals" and "Rooms that Rock." In addition to being featured on HGTV, Pike is also the expert designer on CTV's The Marilyn Denis Show and for several media publications. He is also the Senior Design Director of Andrew Pike Interiors. This next month, Pike will complete the design of the model home to launch an exclusive new collection of homes at the Estates of Wyndance. The model home, The Cavendish design is a two-storey, 4-bedroom home available in three elevation styles.
"As a designer, I wanted to create calm, beautifully styled and well-appointed spaces that welcome you into each and every room," says Pike. "My ultimate vision: a modern interior with a gracious nod to the traditional. It's elegantly sublime with a sophisticated twist."
"It has been really exciting to work with Andrew Pike, who is renowned for his beautiful interiors as well as his work on HGTV," says Paul Golini Jr., executive vice president and co-founder of Empire Communities. "Andrew's creative use of colour and innovative approach to elegant, contemporary design with a touch of the traditional, have brought a new design standard to Wyndance."
During the collaboration and design process, Pike has been wearing a GoPro to give a first-person account of his design process, showing everything that goes into making a house a home from the selection of mirrors and paint colors to other functional and aesthetic touches. Pike's process will be live on Empire Communities' Instagram (empire_living) and Twitter pages (@Empire_Living).
In addition to the spectacular interior design, the Estates of Wyndance offers the perfect combination of nature, family-living and one-of-a-kind luxury. The estate homes are located in the now protected Oak Ridges moraine with coveted greenspace, featuring a golf course, walking paths and private basketball and tennis courts. The personally-selected homesites start at 85' wide by 200' deep, with the collection being built to Energy Star® standards The collection is scheduled to be released alongside the opening of the Andrew Pike-designed model home this summer. For more information about the Estates of Wyndance and to register for updates on the new release, please visit: EmpireWyndance.com
About Empire Communities
Empire Communities is an award-winning homebuilder headquartered in Vaughan, Ontario. Recognized for its outstanding attention to detail and best-in-class customer service, the company designs and builds commercial, industrial, low-rise and high rise residential, luxury new homes, and affordable housing properties in the greater Toronto area. Over the past 20 years, Empire Communities has developed some of the most successful master-planned communities in the area, including over 5100 houses and 3200 condominium units. Its commitment to using energy-efficient amenities and appliances sets the standard for eco-friendly living to help promote a sustainable future.
For more information please visit http://www.empirecommunities.com/.