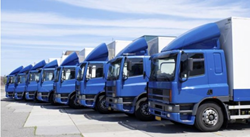 Costa Mesa, CA (PRWEB) June 26, 2014
24-7 Van Lines will soon install onboard technology in their fleet of moving trucks in an effort to cut costs. This technological innovation was pioneered only recently with the installation of augmented reality dashboards, and the company plans to unveil the new technology at their Costa Mesa moving exposition which is due next month.
Onboard technology is unique in that it automatically tracks everything the driver does. This reduces company liability for driver errors once they're trained to eliminate illegal break periods or other delinquent behavior. It also aids drivers in reducing the number of errors made when writing information into paper logs on a regular basis by making these paper logs obsolete.
A company spokesperson for 24-7 Van Lines commented on where these new features would take the company. "This technology is advanced, but has most recently been seen in commercial hybrid vehicles. It's expected to reduce fuel expenditure greatly, automatically create itemized expenditure reports for use at the corporate office, and increase vehicle and driver efficiency a great deal. Customers can expect to see their inventory relocated in a more timely fashion after our trucks are fully upgraded. Hours will be shaved off each day the vehicle remains in transit."
If all goes as expected, the new onboarding technology will make Costa Mesa moving a lot easier for drivers by reducing the number of monotonous tasks they are asked to complete on a daily basis and throughout the day.
Most notably, drivers will no longer have to manually notate when they begin and end their shifts, how much fuel they purchase, or have to prepare for inspections at weight stations. The computer processor is activated when the engine turns on, and automatically records engine on and off times before it shuts down. It also keeps track of how much fuel is burned and how much fuel is replaced in the tank.
One of the greatest benefits, though, is the reduced number of weigh station regulations mandated by state officials due to the use of the new technology. Drivers will be able to cruise through certain weigh stations when officials at the station determine the truck is at a low risk of delinquency. High definition cameras along state interstates will detect trucks as they approach, allowing the weigh station to electronically communicate with the driver.
Expect more details at the company website as they become available: http://247vanlines.com/.
Press Contact
Mark Tanning
24-7 Van Lines
(877) 549-2077