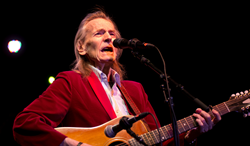 Fairfield, CT (PRWEB) July 01, 2014
Fairfield Theatre Company is excited to host a special, intimate evening with one of music's most successful contemporary folk artists, Gordon Lightfoot, at the Norwalk Town Hall at 8 p.m. on Friday, July 18.
Lightfoot came up in the '60s and '70s, establishing himself with songs that were literal and down to earth, and carried rich undertones of very personal matters, as well as global issues in a manner that was poetic yet accessible. With his rich, strong voice, Lightfoot brought versatility to his writing that allowed many artists to enjoy success by covering his tunes; most notably Peter, Paul & Mary (who enjoyed hits with "Early Morning Rain" and "For Lovin' Me") and Marty Robbins (he topped the country charts with "Ribbon of Darkness").
Born in Orilla, Ontario back in 1938, Lightfoot's mother had an interest in music and recognized her son's talent at an early age. Lightfoot began his musical story by singing in church at the age of five, and coming in second place in a local talent competition at the age of ten. By the time Lightfoot was twelve, he had begun studying piano and voice, learning the rudiments of both pop and classical. He won the Toronto Kiwanis Festival music contest in 1951, and would later perform as part of a special concert at Toronto's Massey Hall (widely regarded as Canada's equivalent to New York's Carnegie Hall in terms of prestige).
During the 1960's, Lightfoot became a member of the Swinging Eight, the in-house vocal group on the popular Canadian television series "Country Hoedown," and later formed a duo with fellow singer Terry Whalen called the Two Tones. The Two Tones were popular enough to play at Canada's celebrated Mariposa Folk Festival and release an album in 1962, but the duo was short-lived, and Lightfoot would soon travel to Europe in 1963, and spend a short time in Great Britain hosting the BBC TV series, "The Country & Western Show". It was during this time that Lightfoot began playing solo and had a regional hit in Canada with the single "Remember Me (I'm the One)."
It wasn't until Lightfoot discovered the works of a Minnesota songwriter, Bob Dylan, that he began approaching his songwriting with a new and more personal style. With years of successful hit songs in Canada, Gordon Lightfoot finally got his first American hit single in 1970 with "If You Could Read My Mind." The single rose to the Top Five of the pop charts, and after the album was retitled "If You Could Read My Mind," it reached the Top Ten. While Lightfoot had finally achieved international success, he was forced to cut back on his touring commitments during the early `70s after he was diagnosed with Bell's Palsy.
In 1974, he returned with the album "Sundown," which included the title tune and "Carefree Highway," both of which became major hit singles. His next two albums would also feature pop hits: "Summertime Dream" included the modern-day folk narrative "The Wreck of the Edmund Fitzgerald," and "Cold on the Shoulder" included "Rainy Day People. In 1986, he was inducted into the Canadian Music Hall of Fame and has continued to experience a creative revival. Due to his musical contributions, Lightfoot has since been named a Companion of the Order of Canada, the highest honor the nation bestows on civilians.
Now the iconic Canadian folk artist comes to the Norwalk Concert Hall in support of his 2012 "All Live" album, a collection of recordings from his many appearances at Toronto's Massey Hall, and only his second live album in his career which has spanned over 40 years. Fans of folk music should get their tickets now and get ready, as Lightfoot brings a night of hit songs that will speak to every generation of music lovers. Gordon Lightfoot is the must-see concert of the summer.
So join Fairfield Theatre Company in welcoming one of the greatest living folk artists to Fairfield County, as they bring Canada's biggest contemporary artist, Gordon Lightfoot to The Norwalk Concert Hall.
Gordon Lightfoot
Date: Friday, July 18
Doors: 7 p.m.
Show: 8 p.m.
Venue: Norwalk Concert Hall 125 East Avenue, Norwalk, CT 06851
Tickets: $35, $55, $75 Adv. Members Discount $5 - $10
Buy tickets: Box Office: 203-259-1036 or reserve online: http://www.fairfieldtheatre.org
About the company:
Fairfield Theatre Company is a highly-acclaimed non-profit performing arts organization located in the heart of downtown Fairfield, Connecticut. FTC presents nearly 250 performances and concerts each year featuring outstanding national talent on FTC's StageOne in Fairfield, The Klein Auditorium in Bridgeport, and the Norwalk Concert Hall in Norwalk. FTC's intimate 200-seat StageOne concert venue is widely recognized as being one of the best places to see a live performance in the region. FTC is dedicated to providing the highest-quality arts, live entertainment and educational experiences to the communities it serves.