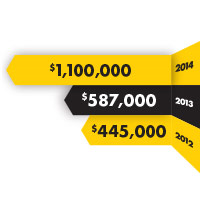 Matthews, N.C. (PRWEB) June 30, 2014
Harris Teeter announced today that it is donating over $1.1 million to the USO and Wounded Warrior Project® (WWP), two organizations committed to supporting our troops and their families. The donation was made possible thanks to generous contributions from Harris Teeter customers during the Company's point of purchase donation card campaign called Support Our Troops.
Harris Teeter hosted the donation card campaign in May, and customers were invited to make $1, $3 or $5 donations to Support Our Troops at checkout. The $1.1 million donation announced today was double the amount raised in 2013 and funds are split evenly between the two organizations.
The money contributed by Harris Teeter's customers will help fund important programs and services for our troops and wounded service members.
It will allow the USO to deliver valuable programs and support services that make a difference in the lives of service members and their families around the world. Harris Teeter's contribution helps the USO support more than 390,000 military family members each year, with programs, like these:

Military Spouse Events help military spouses, who have loved ones that are deployed, cope with the stresses of deployment and the transition back to the community that follows. These events create valuable connections and friendship between military spouses, who are often far from their family and need extra support to endure the changes that come with military life.
Transition Assistance Programs provide troops that are transitioning out of the military with resources and tools to successfully find employment and start new careers.
Study Skills Seminars promote academic resiliency in military children by providing tips for reading development, reading comprehension skills and effective study habits.
Specifically, it will help WWP:

Economically empower more injured service members. Since October, WWP has connected 1,000 warriors with meaningful employment through the Warriors to Work program.
Engage more injured service members with each other, their families, and their communities. Since October, WWP has served nearly 24,000 warriors and their families under the Engagement Pillar.
Ensure more warriors pursue life goals without the barriers and stigma associated with mental health. Since October, WWP has served more nearly 4,000 warriors and family members though programs under the Mind Pillar.
Encourage more warriors to live healthy lives through programs under our Body Pillar. Since October, WWP served nearly 7,000 warriors under this pillar.
Harris Teeter, along with the USO and WWP, thanks its valued customers and associates who participated in the Support Our Troops campaign.
Please click here to watch thank you videos produced by our nonprofit partners.
About the USO
The USO lifts the spirits of America's troops and their families millions of times each year at hundreds of places worldwide. We provide a touch of home through centers at airports and military bases in the U.S. and abroad, top quality entertainment and innovative programs and services. We also provide critical support to those who need us most, including forward-deployed troops, military families, wounded warriors, troops in transition and families of the fallen. The USO is a private, non-profit organization, not a government agency. Our programs and services are made possible by the American people, support of our corporate partners and the dedication of our volunteers and staff.
In addition to individual donors and corporate sponsors, the USO is supported by President's Circle Partners: American Airlines, AT&T, BNSF Railway, The Coca-Cola Company, Grand Canyon University, JCPenney, Jeep, Johnson & Johnson, Kroger, Northrop Grumman Corporation and TriWest Healthcare Alliance and Worldwide Strategic Partners: BAE Systems, BIC, The Boeing Company, ConAgra Foods, FedEx, Lockheed Martin, Microsoft Corporation, Procter & Gamble, TKS Telepost Kabel-Service Kaiserslautern GmbH & Co. KG and Wawa Inc. We are also supported through the United Way and Combined Federal Campaign (CFC-11381). To join us in this patriotic mission, and to learn more about the USO, please visit uso.org.
About Wounded Warrior Project®
Wounded Warrior Project is recognizing its ten-year anniversary, reflecting on a decade of service and reaffirming its commitment to serving Wounded Warriors for their lifetime. The mission of Wounded Warrior Project® (WWP) is to honor and empower Wounded Warriors. WWP's purpose is to raise awareness and to enlist the public's aid for the needs of injured service members, to help injured servicemen and women aid and assist each other, and to provide unique, direct programs and services to meet their needs. WWP is a national organization headquartered in Jacksonville, Florida. To get involved and learn more, visit woundedwarriorproject.org.
About Harris Teeter
Harris Teeter, with headquarters in Matthews, N.C., is a wholly-owned subsidiary of The Kroger Co. (NYSE: KR). Harris Teeter reported 2013 sales of $4.71 billion. The regional grocery chain employs approximately 26,000 associates and operates stores in North Carolina, South Carolina, Virginia, Georgia, Tennessee, Maryland, Delaware, Florida and the District of Columbia.