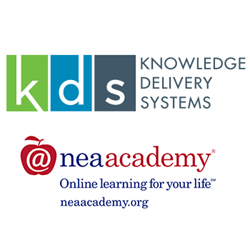 'We are excited to partner with KDS in providing educators with this opportunity for comprehensive online professional learning opportunities.' --Gary Phoebus, President & CEO of NEA Member Benefits
New York, NY (PRWEB) June 27, 2014
The NEA recognizes that effective and efficient professional development (PD) is the pathway to success for improved teacher practice and increased student outcomes. NEA has partnered with Knowledge Delivery Systems (KDS) to provide depth-level knowledge at scale to all of its members, emphasizing the value of online learning as a tool to advance the teaching profession.
An investment in online learning is a way to make PD scalable across not just schools but also locals and states.
"We are excited to partner with KDS in providing educators with this opportunity for comprehensive online professional learning opportunities," said Gary Phoebus, President & CEO of NEA Member Benefits. Acknowledging that the growth of professional educators requires an investment in both time and money towards career-embedded, ongoing professional learning and support for educators, he continued, "All educators need access to innovative and efficient tools for continuous learning. We advocate online tools for our children. Our educators need and deserve access to the same benefits."
A system of support for educators is more critical than ever because of the implementation of the Common Core State Standards and a call for 21st Century Skills for students. NEA president Dennis Van Roekel issued a statement that called for stronger teacher support and PD: "The new Common Core State Standards provide real opportunities for the students in our nation's public school system, but we owe it to them to provide teachers with the time, tools, and resources to get it right."
Through its partnership with KDS, the NEA Academy will bring a system of support with research-based online PD to its three million members and affiliate organizations across the nation—introducing rigorous courses on Common Core, differentiated instruction, and school culture, to name a few. The partnership is further affirmation that the best way to improve education is via a focused, strategic investment in all teachers.
KDS CEO Alvin Crawford said, "It's time to focus the Teacher Effectiveness discussion on developing and supporting teachers at scale. Developing more effective systems of support for our teachers garners better results for our students—ultimately bridging the achievement gap and creating a globally competitive workforce. We are proud to partner with NEA in making ongoing, online learning available to its members as well as state and local affiliates. "
KDS will participate as an exhibitor at the NEA Expo on July 1-2, 2014 in Denver, Colorado, as part of the NEA Member Benefits Professional Cove. The Expo is held the two days preceding the NEA's Annual Meeting and Representative Assembly (RA).
About NEA and NEA Academy
The National Education Association is the nation's largest professional employee organization, representing more than three million elementary and secondary teachers, higher education faculty, education support professionals, school administrators, retired educators and students preparing to become teachers. Learn more at http://www.nea.org. The NEA Academy is the professional learning group developed to support educators with the highest quality online programs and is dedicated to meeting the professional needs of teachers and education support professionals http://www.neaacademy.org.
About Knowledge Delivery Systems
Knowledge Delivery Systems (KDS) is the leading provider of research-based, blended-model strategic professional development solutions for districts, schools, and teachers. KDS' mission is to help school districts and states transform professional development to dramatically improve teacher effectiveness and raise student achievement. KDS solutions systematically build district-wide capacity to address their most important challenges—closing the achievement gap, Common Core instruction and assessments, cultural competency, diverse learners and differentiation, coaching and instructional leadership, and 1-to-1 classrooms. KDS online courses are developed by the nation's leading education experts and researchers and are delivered on the KDS Professional Learning Platform (PLP). For more information please visit: http://www.kdsi.org.