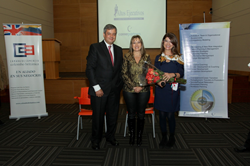 Chapel Hill, NC (PRWEB) June 27, 2014
Altos Ejecutivos, the Colombia office of Career Partners International, hosted an event to celebrate 21 years of business success.
Ines Pardo, equity owner and Senior Manager at Career Partners International - Colombia, in partnership with Patricia Tovar, Director of the Camara de Comercio Colombo Britanica, invited Jorge Silva Lujan, General Manager of Microsoft – Colombia, one of the world's major technology leaders, to speak about the requirements needed to be a true leader in an organization. Approximately 100 industry leaders interested in leader development and developing the cultures and values within their organizations attended the event.
Silva Lujan shared his belief in the ability of people to lead by principles, such as honesty and transparency, and to recognize and develop leadership skills in others. Throughout his career, he worked directly with human resources leaders to develop his management teams and generate outstanding business results in the Latin American Region, positioning him as an effective leader in his industry. He also provided attendees with insights on clear communication, effective feedback and increased awareness about the need for leadership by people of integrity who lead their lives in a balanced manner - professionally, personally and spiritually.
The presentation broached many topics, including hackers, Windows 8 and the alliance between Microsoft and Nokia. Silva Lujan stressed the need for businesses to recruit talented individuals and provide them with technical training and leadership development to gain the skills needed to succeed – a philosophy shared by Career Partners International. These individuals often rise to become successful leaders who generate results in dynamic organizations which are often characterized by changing, very demanding and yet productive company cultures. He further emphasized the importance of focusing on work-life balance, quality relationships and organizational values.
"We're excited about our 21 years of success in Colombia and to celebrate this occasion with Mr. Silva Lujan's presentation," said David P. Hemmer, President and CEO of Career Partners International. "Jorge is a tremendous leader and Microsoft exemplifies how the values and culture of an organization play an integral role in the success of both the organization and its employees."
Additional key points shared by Silva Lujan included:

The importance of being at the forefront of technology
Maintaining a high level of humility and surrounding oneself with successful role models
A leading global provider of leadership development and talent management services, Career Partners International is known worldwide for its Create Your Career GPS™ and Manager as Coach Learning Series® programs and resources that assists companies to engage and align employees with strategic corporate objectives as well as develop managers for their roles as leaders.
About Career Partners International
Career Partners International enhances organizational performance and people's lives every day! As a global leader in talent management consulting since 1987, organizations of all sizes and industries trust Career Partners International for the very best outcomes to their most challenging and important talent strategies and initiatives. With the most experienced and respected consultants in more than 45 countries, Career Partners International provides clients with one-on-one access to local experts in talent development, career management, executive coaching, outplacement and career transition services to successfully assess, engage, develop and transition talent to drive organizational performance. More information may be found at http://www.cpiworld.com.
About Altos Ejecutivos
Altos Ejecutivos is the best choice in human resource consultancy in the Andean Region. Altos Ejecutivos supports organizations in attracting, developing, retaining, coaching and transitioning the best talent in the Andean Region. As a Career Partners International firm, Altos Ejecutivos provides the most qualified certified coaches and consultants in executive coaching, leader development and outplacement services. With a variety of internationally accredited coaches all over the world, Altos Ejecutivos tirelessly supports executives and professionals to enhance their careers.
Bogota, Colombia Contact: Ines Pardo, Career Partners International – Colombia, Ph 571.640.3043 ines(dot)pardo(at)altosejecutivos(dot)com
Corporate Contact: Kim Mills, Career Partners International, Ph 919.419.8296 kim(dot)mills(at)cpiworld(dot)com