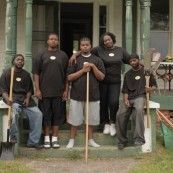 Saunders is know for her nurturing demeanor, discipline and sense of humor.
Austin, TX (PRWEB) June 28, 2014
B>U names Vivian Saunders their June Feature of the Month for her tireless efforts helping under privileged and at risk youth. Saunders is the executive director of "The Hive", an alternative school helping kids avoid the trap of drugs, gangs and violence.
The Hive located in Bertie County in North Carolina provides a safe and stable environment where children are encouraged to learn and grow.
Saunders is known for her nurturing demeanor carried through a strong sense of discipline and over the top sense of humor. She and her story were the basis for the feature length movie, In the Hive, by Robert Townsend.
"Be Greater Than You feature people throughout the country that inspire others to be greater than themselves. Vivian Saunders and her Hive exemplifies that spirit to the fullest and, as such, is our B>U June Feature of the Month," proclaims Richard May, B>U Conductor.
One of the Hive's most successful components is their technology lab helping students bridge the digital divide, a current phenomenon facing millions of low income Americans.
Saunders mission never ends with children and the Hive needing constant attention. She struggles each month for donations to keep the organization financially stable. To donate to The Hive, email Saunders: saunders239(at)yahoo(dot)com.
Through all of her adversity, she keeps a positive attitude and focus on her mission to provide the kids structure, discipline and education. It is for those reasons, B>U, names Vivian Saunders as their June Feature of the Month.
About B>U:
BGreaterThanU.com is the marketing brand inspiring individuals to become greater than themselves for a greater world. The website offers lifestyle tips, inspirational stories and merchandise reflecting the inspirational brand.