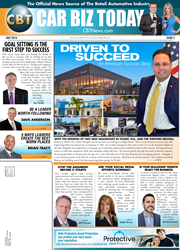 Atlanta, GA (PRWEB) June 26, 2014
CBT News announced today that the July issue of Car Biz Today Magazine is now available online, and printed copies will be delivered to dealerships next week. To see the digital version of Car Biz Today Magazine, visit CBTNews.com.
This month features stories from some of the retail automotive industry's top names including Dave Anderson of Learn to Lead, who examines the difference between subordinates and followers. He spells out the traits that leaders must possess to turn employees into followers.
David Lewis and Joe Verde offer practical information on what it takes to plan and implement successful growth strategies for dealerships, while Jeff Cowan's article addresses the issue of reservations and appointments in the service lane. Other contributors are Delia Passi of the Women's Choice Award, Brian Tracy and Mark Tewart to name a few.
Mario Murgado, president and CEO of Brickell Motors, is the featured dealer for July. His is a remarkable story that began when he, at the age of 3, arrived in the U.S. on one of the 1960s Freedom Flights from Cuba. His inspiring story of how to build a successful dealership group stems from his love of our country and his love of the car business. For more information or to sign up for a free subscription, go to CBTNews.com.
About CBT News and Car Biz Today Magazine
CBT News is an online news source dedicated to providing the retail automotive industry with news, training and event coverage through various forms of multi-media journalism. The online news source has more than 75,000 subscribers made up of new car dealers and their personnel. CBT News is home to award-winning broadcasters and is headquartered in Atlanta, Ga. Car Biz Today Magazine originally launched as a bi-monthly print publication, reaching more than 17,000 new car franchises in North America. Positive feedback from both readers and advertisers led CBTNews to move the magazine to a monthly format. As with the website and newscast, Car Biz Today Magazine provides informative, upbeat and relevant information for retail automotive executives and their personnel. Learn more at cbtnews.com.