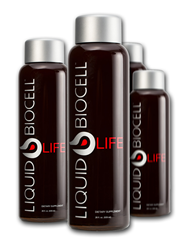 The sleek shape of the bottle clearly distinguishes our product to be in a class of its own and I'm pleased to celebrate its debut.
Anaheim, CA (PRWEB) June 26, 2014
Jusuru International announced today the new rebranding and packaging debut of its flagship product, formerly known as Jusuru Life Blend, a nutraceutical that promotes healthy aging, active joints and younger-looking skin by reducing the enzyme that causes aging effects in the body.
Now known as "Liquid BioCell™ Life," the new and aesthetically enhanced bottle design now draws focus to its exclusive and clinically-tested active ingredient, Liquid BioCell™. The product, backed by human clinical trials delivers the potent formulation that tens of thousands of loyal monthly consumers have been using for a better quality of life and to prevent degradation of the building blocks that keep joint cartilage, connective tissue, and the skin dermis turgid, supple, and resilient to every day wear and tear, overuse, and photoaging. The new bottle design begins shipping today, with an added bonus of more than 10% of the liquid supplement per bottle. Additionally, the glass bottle is recyclable and its shipping components are made from post-consumer waste.
Jusuru President, Asma Ishaq, comments, "The rebranding and new packaging of Liquid BioCell™ Life has been in the works for well over two years; delivering the right look and positioning the product, as the high-tech nutraceutical that it is, was an important company priority. The sleek shape of the bottle clearly distinguishes our product to be in a class of its own and I'm pleased to celebrate its debut with our iReps and consumer base. We proudly continue to offer greater value and adapt to the needs of our consumers." The new bottle design accompanies a number of rebranding efforts, including website design, mobile applications, and marketing materials that cater to Jusuru's rapidly growing salesforce.
The new Liquid BioCell Life delivers the exact same multi-patented, award-winning formula, manufactured in a cGMP, NPA and NSF for Sport Certified facility. Jusuru was recently recognized for having the "Best Bone and Joint Health Ingredient" in North America and "Best Collagen Peptide in Personal Care" by Frost & Sullivan, based upon its formulations. Earlier this year at the company's Regional Convention, several new products were introduced to its skincare line, Stromaderm®, which was also met by an updated new look, and results of an additional human clinical trial showing efficacy on the appearance of wrinkles. The company has also earned special recognition by the Direct Selling Association for its certification in the DSA Code of Ethics Communication Initiative.
About the company:
Jusuru International, Inc., headquartered in Anaheim, California, is the company behind Liquid BioCell™, a new generation nutraceutical for healthy aging, active joints and younger-looking skin. Liquid BioCell Life™, the company's flagship liquid nutritional supplement, is backed by 37 clinical studies, 7 US and international patents and has received numerous industry awards. Jusuru is committed to delivering the most advanced nutritional supplements and skincare made with the highest quality ingredients. Its executive team supports the company's rapidly expanding network of independent representatives with decades of experience in health, science and business. Jusuru is a proud member of the Direct Selling Association (DSA).
For more information on Jusuru products or the company, please contact Jusuru International, Inc. at (714) 678-1600 or visit http://www.jusuru.com.