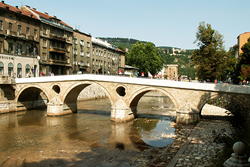 "I hope that conversations about World War I will not focus on competing narratives of victimhood. That would be a dead end. Let's remember victims—but let's honor memory by pointing toward a positive future."--Joel Rosenthal
(PRWEB) June 27, 2014
In February 1914, just months before the outbreak of World War I, Andrew Carnegie launched the organization now known as Carnegie Council for Ethics in International Affairs. Carnegie always thought big. He expected the group to not only prevent World War I, but to put an end to war forever.
Almost 100 years later, wars are still with us, but Carnegie Council continues to think big. Just as the organization's founding members sought to include moral values in political decisions worldwide, it is the Council's premise that incorporating ethical concerns into international affairs is essential for more effective policies.
Today, June 27, 2014, the Council is holding a special symposium in Sarajevo titled The Crisis of 1914 and What It Means for Us Today. This event is held in partnership with the American University in Bosnia and Herzegovina (AUBiH) and takes place at the Gazi Husrev-bey Library. Speakers include distinguished scholars Michael Ignatieff, Margaret MacMillan, Adam Roberts, and Carnegie Council President Joel Rosenthal.
How should we mark the 100th anniversary of the assassination of Archduke Franz Ferdinand and what lessons should we draw from World War I? asks Joel Rosenthal in this article written in Sarajevo: We Have a Plan: From Sarajevo to Baghdad.
Carnegie Council also presents a monthly interview series on World War I with well-known historians entitled THE LIVING WAR. In addition to discussing the history of the war, it pays special attention to some of the major concepts, trends, and movements to emerge from it, as well as those that were irrevocably altered by it—such as nationalism, imperialism, collective security, global governance, transnationalism, and great power politics. Go to:http://www.carnegiecouncil.org/studio/wwi/index.html.
Founded by Andrew Carnegie in 1914, Carnegie Council for Ethics in International Affairs is an educational, nonprofit, nonpartisan organization that produces lectures, publications, and multimedia materials on the ethical challenges of living in a globalized world. For more information, go to http://www.carnegiecouncil.org