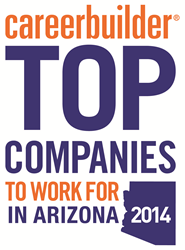 We truly believe in treating every single team member, no matter his or her seniority or title, as an integral part of the company.
Phoenix, Arizona (PRWEB) June 30, 2014
For the second year in a row, Miller Russell Associates has been named one of CareerBuilder's Top Companies to Work For in Arizona. The independent investment adviser was once again identified for its focus on team building and employee-centered business practices.
CareerBuilder, BestCompaniesAZ and Republic Media hosted their second year of the statewide workplace awards program, aimed at recognizing organizations that foster quality work cultures. In a world of ever-increasing technology, the companies that make up this list demonstrate a commitment to the people that remain at the heart of all business success.
"We are extremely proud to be named one of the top companies to work for in Arizona for the second year in a row," said Mark Feldman, CEO and managing partner of Miller Russell Associates. "We truly believe in treating every single team member, no matter of his or her seniority or title, as an integral part of the company, and as the future leadership of the firm. The culture that exists today in Miller Russell Associates is unbeatable; it's a wonderful feeling to be a part of passionate and dedicated team."
The organizers evaluated employee satisfaction surveys and employer questionnaires to select companies that stand out in the areas of HR programs, benefits, and overall work experience. Those companies that score highest are identified as role models in employer practices and employee engagement and promote a new trend that focuses on employee retention.
Winners were announced at a "Top Companies" breakfast reception on June 27, 2014 and the full list and related stories appeared in a special supplement inserted in the June 29th edition of the Arizona Republic, and online at TopCompaniesAZ.azcentral.com.
About Miller Russell Associates
Miller Russell Associates is one of the Southwest's largest wealth management and registered investment advisory firms (RIA), headquartered in Phoenix. Independent and partner-owned, Miller Russell Associates provides investment, wealth management and tax compliance and consulting services to individuals and families, corporate retirement plans, endowments and foundations, and sovereign nations throughout the Western United States. Miller Russell Associates manages and consults on more than $2 billion of assets and employs more than 40 professional and support staff. The firm has earned the prestigious CEFEX certification, an independent assessment that recognizes that the firm adheres to the industry's best fiduciary practices. For more information, visit miller-russell.com.
About Republic Media
Republic Media is a consultative media company that provides you with the means to deliver your message to the right audience in the most effective way. From online to print to direct mail, Republic Media encompasses an array of products including The Arizona Republic, azcentral.com, 12 News, and La Voz. Since 1890, The Arizona Republic continues to be Arizona's most trusted and most read newspaper. http://www.RepublicMedia.com
About CareerBuilder®
CareerBuilder is the global leader in human capital solutions, helping companies target and attract their most important asset - their people. Its online career site, CareerBuilder.com®, is the largest in the United States with more than 24 million unique visitors, 1 million jobs and 49 million resumes. CareerBuilder works with the world's top employers, providing resources for everything from employment branding and talent intelligence to recruitment support. More than 10,000 websites, including 140 newspapers and broadband portals such as MSN and AOL, feature CareerBuilder's proprietary job search technology on their career sites. For more information, visit http://www.careerbuilder.com.