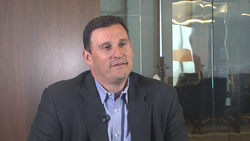 It's about offering the guest an experience they don't get today in our industry
(PRWEB) June 27, 2014
Jim Fitzpatrick, President of CBT News interviewed Sonic's Jeff Dyke about the Fortune 500 company's "One Sonic-One Experience" initiative. Dyke, Executive Vice President of Operations discussed the rollout of its new sales process in addition to its plan to open stand-alone pre-owned vehicle stores, Sonic's plans for expansion and consolidated branding.
The first store scheduled to implement the One Sonic-One Experience on August 1 is Town and Country Toyota in Charlotte, N.C., where the company is headquartered. Plans are for the entire Charlotte market to switch over by the end of the year. The new process was designed to put the customer in charge and in their new car in less than 45 minutes.
One element of the process is one-price selling, "but it's important for everyone to understand it's not just about one-price selling," said Dyke. "It's about offering the guest an experience they don't get today in our industry, and you can't do that if you're going to haggle back and forth. If you have to go back and forth three or four times, you lose credibility with the guest and everybody else. So we're going to stop all that."
Dyke also shared information about the state-of-the-art technologies that were designed by Sonic, and the major change in company culture that was seven years in the making.
To see the first of the three-part interview, tune in to CBTNews.com on June 27.
About CBT News
CBT News/Car Biz Today is an online news source dedicated to providing the retail automotive industry with news, training and event coverage through various forms of multi-media journalism. The online news source has more than 75,000 subscribers made up of new car dealers and their personnel. CBT News is home to award-winning anchors Bridget Everett and Russell Brown and is headquartered in Atlanta, Ga.