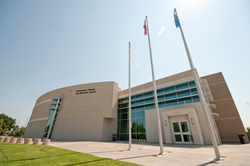 More than 120 teachers from all corners of the state are expected to attend the conference
Oklahoma City, Oklahoma (PRWEB) June 28, 2014
The goal of AEIP is to develop a future Science, Technology, Engineering, and Math (STEM)-based workforce for the Oklahoma Aerospace Industry, partnering Oklahoma STEM teachers in grades 3-12 with Oklahoma aerospace industry, business and government partners, designating them Oklahoma Aerospace Fellows. More than 120 teachers from all corners of the state are expected to attend the conference at Rose State College's campus in Oklahoma City.
Featured speakers include Steve Hendrickson, Executive Director for Government Affairs; James Grimsley, the President of the Oklahoma Unmanned Aerial Systems Organization; and Lt Governor Todd Lamb, who will present $15,000 in Educational Grants sponsored by Boeing, the Oklahoma Business Roundtable and the PITSCO Company.
Fellows will be treated to breakout sessions led by technical education organizations that will be demonstrating teaching techniques as well as providing instructional outlines and materials. The afternoon will be highlighted by a tour of the Oklahoma City Air Logistics Center at Tinker, AFB. Each Fellow will have a chance to apply for grants valued at a total of $19,000 and each will receive a $100 stipend and a $110 educational equipment gift card along with professional development credit.
Additional grants will be presented for $2,000 each in support of Unmanned Aerial Systems technology.
AEIP is funded by the Boeing Company, the Oklahoma Aeronautics Commission, the Oklahoma Business Roundtable, the Oklahoma NASA Space Grant Consortium, the Oklahoma City Air Logistics Center, the Greater Oklahoma City Chamber of Commerce, the Oklahoma Department of Commerce, Oklahoma Department of Career and Technical Training, Rose State College, PITSCO, the Oklahoma Foundation for Excellence, ARINC, the Tinker Business and Industrial Park, Anautics, the Oklahoma 21st Century Community Learning Centers Grant and the Tinker Federal Credit Union.
For additional information, contact: Ben T. Robinson: sentryonellc (at) aol.com; 405-812-1292, or HL Baird: h.l.baird (at) careertech.ok.gov: 405-747-4707.