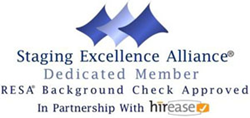 The Academy of Home Staging program is so complete, I feel confident that I can now go home and start my business in the next 30 days!
Los Angeles, CA (PRWEB) June 27, 2014
The Academy of Home Staging is pleased to announce the schedule of classes for Advanced Home Staging Certification Classes, Fall 2014. To reach interested students across the country, The Academy is delivering classes in three different locations. The upcoming Advanced Certification for Home Staging classes will be held inNew York City, September 15th to 20th; Los Angeles, CA, September 22nd to 26th; and the Tampa Bay area, November 10th to 15th.
The New York City class will be taught by Kara Woods of Staged to Move, recipient of several of the industry's top awards. This is a six-day class that has additional special activities students will benefit from, including special field exercises and speakers at the New York City Design Center.
The Los Angeles class will be taught September 22nd to 226th in Los Angeles, CA by Wanda Colon. Wanda leads the design team at Style My Space, a leading design and staging firm in Los Angeles. Wanda made guest appearances on HGTV's "Designers Challenge" and "Designing for the Sexes" before she joined the design team of HGTV's popular "24 Hour Design" as a co-host and designer.
The Tampa Bay class will be held November 10th to 15th by Mary Ellen Fortier, founder and owner of Decorative Interiors by Mary Ellen. Mary Ellen provides both staging and complete design services to clients in the coastal area of mid Florida. This class will be a six-day class and offers a dual certification for students. In addition to the full class portfolio of all of The Academy of Home Staging classes, Mary Ellen offers a sixth day for students to learn and become certified in Staging for Rentals.
The Academy offers early bird specials. Any student that registers and pays in full at least 60 days prior to the start of their class will get a $200 discount off their class.
Class sizes are limited to ensure teacher to student mentoring as needed, so sign up today by call 1-800-574-5576. Students will learn everything they need to know to start and run their own Home Staging Business.
Home Staging is a rapidly growing industry. The real estate industry across the country has seen significant growth in listings, prices and sales in the past year.
The Academy of Home Staging offers industry leading training that is unmatched by other Home Staging Training courses. Several key factors set The Academy's training program apart from the rest:

The only Advanced Home Staging Certification available.
Limited class size (8 maximum students) to provide personalized coaching and mentoring to our students by our Instructors.
Over 10 hands-on exercises including a minimum of 3 in-field exercises. These exercises are crucial to providing students a complete education and insuring the ability to successfully start and manage their own Home Staging business.
Student and Instructor experience together, apply and discuss all solutions and approaches for all areas of the design and business aspects to a Home Staging Business.
Student discovery and questions are encouraged in every session.
Complete Business CD for each student upon successful completion of the class, and passing the Certification exam at the end of the class.
Committed to the success of every student that comes to The Academy of Home Staging. Ongoing education, regular Alumni newsletters chock full of new information and tips and access to one-on-one coaching.
Interested students should call 1-800-574-5576 today to register and secure their seat in our limited enrollment classes and realize these fantastic savings! All students will be eligible to apply for our finance program.
ABOUT THE ACADEMY OF HOME STAGING: The Academy of Home Staging was founded by Kim Kapellusch in 2005 in the Los Angeles area, and has quickly become the Industries' premier Home Staging and Redesign Certification Training Program. Today The Academy operates in California; Dallas, TX; New York City, NY; Seattle, WA; Tampa Bay Area, FL; and Washington, DC. In addition to its leading classroom certification classes The Academy offers a full CD based course, ongoing education and one-on-one business counseling.
For more information call 1.800.574.5576 or visit http://www.TheAcademyOfHomeStaging.com.