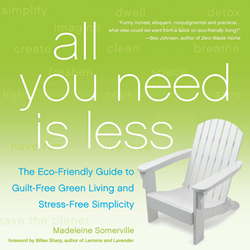 "All You Need Is Less does a good job at making green living seem more attainable and manageable, and that's definitely something worth promoting."—TreeHugger.com
(PRWEB) June 27, 2014
Madeleine Somerville, author of All You Need Is Less: The Eco-friendly Guide to Guilt-Free Green Living and Stress-Free Simplicity, penned a piece for Alternet on earth-friendly replacements for common household items. The items included seemingly innocuous items like dryer sheets, make up, and bath and body products. Surprisingly, the list included intangible toxins, like stress and guilt. Somerville calls guilt "a toxic substance that can kill any forward momentum you might have as you reach for a greener life."
More about All You Need Is Less:
Top eco-blogger Madeleine Somerville's premier book All You Need Is Less is full of original—and fun!—ideas on how to save money and the planet. Somerville has emerged as the voice of reason on urban homesteading that is stress-free, sanity-based and above all doable. Learn how to recycle, reuse, and most importantly reduce with tips from All You Need is Less.
Madeleine Somerville adores writing in all its incarnations, and has a popular blog at SweetMadeleine.ca. She has a B.A. in sociology and became an unrepentant, tree-hugging hippie after moving to British Columbia eight years ago. She lives in Vancouver, Canada with her husband, Adam, her baby girl, Olive, and their dog, Gus.