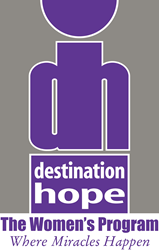 Addiction is rarely about the substance itself. It's about the rewards that are associated with the substance.
Fort Lauderdale, Fla. (PRWEB) June 27, 2014
Destination Hope's alcohol and drug rehab for women is seeing a rise in food addiction clients, and a new study explores why this might be the case. A health psychology study out of the University of Luxembourg, Is Food Addiction Real, has found that some women do appear to be more prone to food addiction than others. The researchers suggest that both nature and nurture could be at the bottom of the addiction, though as with other addictions, the root causes are not always the same.
"Addiction is very rarely about the substance itself," said Ben Brafman, the founder and CEO of Destination Hope: The Women's Program, a highly regarded alcohol and drug rehab for women treatment facility in Fort Lauderdale. "It's about the rewards, however temporary, that are associated with the substance. That could be drugs, alcohol, cigarettes, or even food."
The study centered on a food-related psychology test, and found that women who have problems with their weight tend to be more impulsive than the average woman. This could have a combination of meanings, including an instinctive reaction to food, regardless of hunger. In fact, after viewing pictures of food, several women said that they were craving food even though they had eaten recently.
"The findings of this study were interesting, but not surprising," said Brafman. "Addiction can be a tricky thing, and it isn't always logical. Binge eating doesn't happen simply because someone is hungry; there are typically emotional and psychological triggers involved."
Many clients at our alcohol and drug rehab for women report using drugs for similar reasons, but no two women deal with the same addiction. The same is true for food addiction, which can spring from habit, boredom, or intense emotions, among other factors.
"We actually approach treatment for food addiction in a similar way to substance or alcohol addiction," said Brafman, who has been a behavioral health expert for over 20 years. "To even begin to build towards a state of recovery, a woman must first get to the underlying reasons for the addictive behavior. Only then can we start to rebuild and move forward."
As we learn more about addiction, studies are turning their focus onto a potential predisposition to addictive behaviors. This recent study on food addiction supports the theory that some people may be predisposed to the behavior, although such a statement is not conclusive at this stage. Regardless of the cause, at our women's addiction treatment center we advocate treating the whole person, not just her addiction.
###
Destination Hope: The Women's Program is a full service addiction, drug, alcohol and dual diagnosis drug rehab for women treatment facility in Florida for women suffering from substance abuse and mental health issues. Treatment programs include: drug rehab, alcohol rehab, outpatient rehab, dual diagnosis therapy, family therapy programs, prescription drug rehab aftercare and women's health programs to treat depression, anxiety and eating disorders. Destination Hope: The Women's Program and its partner program, Destination Hope, provide gender specific therapy in an intimate treatment environment. For more information on the center or substance abuse and addiction treatment, please go to http://www.womensdrugrehab.com.