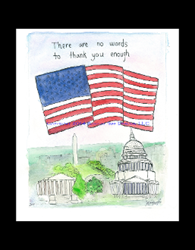 These are beautiful works of art honoring our Veterans and Fallen Soldiers.
Bradenton, FL (PRWEB) June 30, 2014
Banyan Tree Designs is pleased to announce that during the month of July we are honoring all Veterans and Fallen soldiers with two new prints, both at thirty percent discount during the month of July. Men and women served so that our country can continue be free and independent. Banyan Tree Designs, LLC greatly appreciates their service and wants to honor and celebrate it.
Banyan Tree Designs, LLC has two new prints that are available in all forms for thirty percent discount during the month of July. The first is called 'Veteran', the second is called 'Fallen Soldier'. Discounts are noted on our store at http://www.banyan-tree-designs.com.
Banyan Tree Designs, LLC is a new visual poetry company that was founded by Mary Ellen Fortier, entrepreneur from Bradenton, Florida; and Rich Marcello, Novelist, Poet and musician / songwriter from Harvard, MA. Marcello creates the poetry and Josh Stewart, a very talented young artist from Boxborough, MA illustrates the meaning of the poetry into beautiful water color paintings. Prints are offered matted in 11x14 size, and also matted and framed. Recently added to the store are note cards – the inside is blank and provides a very special card with a unique piece of art on the front to send with the buyers personal sentiments inside.
Banyan Tree Designs, LLC began with six art pieces and have quickly grown and currently have 17 visual poetry pieces in our gallery. Please stop back often to see the new works as they go up into the store. New works will be added regularly.
ABOUT BANYAN TREE DESIGNS: Banyan Tree Designs, LLC is a small team with a shared passion for the arts, the power of the written word, deep honesty, transparent openness, compassion, and community. Visual Poetry is our thing – we truly want to engage with you through word, art and technology. Like the Banyan Tree we are dedicated to feeding your mind and soul with words and art. Please come sit under our Banyan Tree, enjoy our visual poetry. Share your story and ask your questions. We hope that in your time with us you will begin to share our passion for visual poetry.
For more information please write us at info(at)banyan-tree-designs(dot)com.