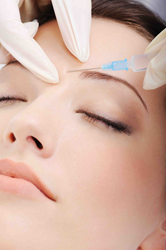 ...it's best to get it about one month before the big event.
Las Vegas, Nevada (PRWEB) July 01, 2014
Every bride wants to look radiant and glowing on her special day. To that end, many brides will diet and workout in order to look their best on the day of their nuptials. While much attention is focused on the perfect wedding gown, just the right venue, and making sure that catering goes off without a hitch, there are other factors that are increasingly being considered standard for weddings. One of these is the use of Botox injections before the wedding as a cosmetic procedure to help enhance appearance.
The use of Botox injections has steadily increased over the years. The American Society of Plastic Surgeons has reported that there were over 6.1 million procedures in 2012 alone, which represents an eight percent increase from the previous year. The number two cosmetic procedure was soft tissue fillers, with a total of 2 million in comparison.
An interesting fact is that it's not only brides who are using Botox to look younger, but grooms are increasingly using this procedure as well.
Botox is used to treat a number of health issues, such as chronic migraines, overactive bladder, cervical dystonia, misaligned eyes, spastic cerebral palsy, and uncontrollable blinking. Its most common use today, though, is in the treatment of smoothing out facial wrinkles temporarily. Botox works by blocking the transmission of nerve impulses to muscles and thus relaxes them, making for a smoother, younger appearance. While the main target of Botox has been the vertical frown lines between the eyebrows, the US Food and Drug Administration (FDA) approved the use of Botox in the treatment of crow's feet, those troublesome areas around the eyes, in September, 2013. This approval was given after two clinical trials involving 833 adults.
The problem with using Botox before a wedding or other big event is not the Botox injection itself, but rather that the person getting the procedure doesn't get it far enough in advance to allow it to reach its full effect. Dr. F. Victor Rueckl, dermatologist at Lakes Dermatology, says, "While many patients understand that Botox lasts for three to four months, it's best to get it about one month before the big event. It takes ten days for it to fully kick in, so if there is any tweaking needed, getting the procedure two weeks beforehand just doesn't allow enough time."
As for other cosmetic procedures that are popular pre-wedding preparations, Dr. F. Victor Rueckl suggests that each differing procedure has their own timetable. He says, "Fillers should be done at least two months before. Sometimes there's a bruise or sometimes the patient wants more added, or a tweak needs to be done, then it's best to allow two months between the procedure and the big event. As for facials and such, it's best to have them two weeks before as that some people may have a breakout or a reaction.
"This gives us plenty of time to calm things down. As for the very worst, getting that big pimple right before the big day, we can treat that by injecting cortisone and it'll go down immediately!"
While the use of Botox has skyrocketed, such as in the case of people throwing Botox parties, the FDA reminds us that Botox is a prescription drug that should be administered by a qualified physician in an appropriate medical setting. Patients of Lakes Dermatology are indeed fortunate as Dr. F. Victor Rueckl has been one of the top injectors of Botox in the Las Vegas area for years and has an extremely high client retention rate due to his professionalism and consistent results. At Lakes Dermatology, Dr. Rueckl is the only injector of Botox, never delegating this procedure to a nurse or physician's assistant. Dr. Rueckl performs Botox injections daily in his office and has done over 8,000 treatments since 2005.
Whether the big event coming up is the wedding of your dreams or a class reunion, it is important that you get any cosmetic procedures done in advance to allow them to fully take effect. Visiting a certified physician, such as Dr. Rueckl of Lakes Dermatology, will allow clients to fully discuss all their options with their doctor and to determine when exactly such procedures should take place so that you may look your best when the big moment comes. You've planned for everything from the DJ to the food, so don't forget about making sure that you will look your best.
References:
1) http://www.plasticsurgery.org/news/past-press-releases/2013-archives/14-million-cosmetic-plastic-surgery-procedures-performed-in-2012.html
2) http://www.fda.gov/newsevents/newsroom/pressannouncements/ucm367662.htm
3) Quote from Dr. F. Victor Rueckl, dermatologist at Lakes Dermatology