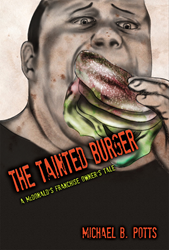 Savannah, Georgia (PRWEB) June 30, 2014
Early reviews give The Tainted Burger five stars! D. Bryson writes, "This book gives us an insight into the corporate culture of one of the biggest purveyors of fast food in the world.The Author reveals fascinating details on how the fast food system works and what the corporation does to maintain their market share at the cost of its franchise owners and its customers. Anyone who has seen recent documentaries on the food industry and the fast food industry will love this book. A must read."
Dan Colglazier writes...
Michael B. Potts has led a very interesting life and describes some of it in his book "The Tainted Burger". The book is mostly about his experience with McDonald's, but the author also shares some of his other life experiences that led and prepared him for that. The author has testified before a U.S. Senate subcommittee about his experience with collegiate athletics playing football at Northwestern University. He gained valuable job experience as an industrial engineer with the U.S. Postal Service during which he earned an MBA, and management and executive experience with Eaton Corporation during which he oversaw lots of changes along with a vice presidential job at a company making specialized vehicles. Michael B. Potts had always had an interest in being an entrepreneur and became an owner-operator of three McDonald's restaurants in the Savannah, Georgia area. He writes about his training experience learning to manage everything at a McDonald's restaurant including attending Hamburger University. Most of the book is about his experience buying, running and finally selling those restaurants. His travails with his employees, his equipment, his area co-op, and McDonald's executives are both entertaining and insightful as to what it takes to successfully run a business. Along the way, corporate politics and government policies and their effects are shown. Racial discrimination is also a recurring theme throughout the book. I learned a lot from reading this book and thoroughly enjoyed it.
The author felt that he had found some satisfaction in knowing that he tried to use his stores to partner with the community and move closer to things like a living wage. http://www.amazon.com/The-Tainted-Burger-McDonalds-Franchise/dp/1499160364/ref=sr_1_1?ie=UTF8&qid=1404090066&sr=8-1&keywords=the+tainted+burger