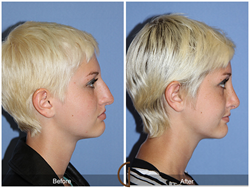 Teenage rhinoplasty can improve the appearance of a patient's nose and overall harmony of their facial features. This allows a teen's self-confidence to grow by presenting a better-looking version of themselves.
Newport Beach, CA (PRWEB) July 01, 2014
For Orange County teens, summer is the perfect time to reinvent their image and develop a new look before going back to school, or before they begin a new chapter of their lives as they start college. This break from school makes it a great time for teens to undergo a desired nose surgery, such as rhinoplasty, septoplasty or sinus surgery, since they have the ideal amount of time for proper nose surgery recovery.
Nose and sinus surgery expert and renowned facial plastic surgeon of Newport Beach, Dr. Kevin Sadati, notes that for this summer, the top cosmetic surgery choice among teenagers has shown to be rhinoplasty. At the same time, many of these rhinoplasty patients are addressing sinus problems with sinus surgery or septoplasty for a deviated septum. Since the patient is having a cosmetic nose job, it is ideal to fix any internal breathing issues at the same time instead of undergoing multiple nose surgeries.
"Teenage rhinoplasty can improve the appearance of a patient's nose and overall harmony of their facial features. This allows a teen's self-confidence to grow by presenting a better-looking version of themselves through individualized adjustments made to their nose by cosmetic surgery. Combine this with improvements made to the patient's breathing and overall, this nose and sinus surgery makes a true improvement to the quality of life for my patients," explains Dr. Kevin Sadati.
Both open rhinoplasty and closed rhinoplasty can improve the appearance of the nose in many ways. For some teens, the goal of a nose job is to eliminate a bump on the bridge of the nose. For others, they feel they have a big nose or even a wide nose, and want to have rhinoplasty performed to make their nose more proportionate to the rest of their face. Dr. Kevin Sadati specializes in providing teens with natural-looking rhinoplasty results that increase overall facial harmony by creating individualized changes to the nose depending on the person's facial features and ethnic background.
When is the Best Time to Have Teenage Rhinoplasty Performed?
Rhinoplasty surgery takes about two to three hours to complete, while rhinoplasty recovery can last for several weeks depending on the patient. Teenage patients would normally have to miss about a week of school in order to have this surgery performed during the year, so summer vacation provides a good amount of time for teens to rest and recover without falling behind.
During rhinoplasty recovery, the majority of swelling and bruising subsides after seven days, but minor swelling can last for several weeks after the operation. This nose swelling is often so slight that it is only noticeable to the patient. If nose or sinus surgery is performed early in the summer, teens will feel confident about their new back-to-school look and feel completely recovered by September.
Another reason summer is ideal for cosmetic nose and sinus surgery is because most teens are not actively involved in school sports during the summer months. After a nose surgery, contact sports must be avoided for several months in order to protect the surgical results. Both rhinoplasty and sinus surgery recovery could be individualized to the patient, depending on how much of a correction was performed during surgery. It is important to listen to your facial plastic surgeon's after care instruction and to follow the guidelines on when it is time to resume normal activities.
It should be noted that all teen patients who are under the age of 18 must have written consent from a parent or guardian before they can have a rhinoplasty, septoplasty or sinus surgery performed by Dr. Kevin Sadati. In addition, the patient's nose must be fully developed for any nose or sinus surgery. For female patients, nose development is typically completed between the ages of 15 and 16, while teenage male patients usually do not have a completely developed nose until closer to the ages of 17 or 18. It is important that surgery is not performed when the patient is too young for nose surgery and before their nose is fully developed.
For more information about the rising popularity of teenage rhinoplasty, how to fix a deviated septum or breathing issues, please contact board certified ENT specialist and facial plastic surgeon, Dr. Kevin Sadati, at the Gallery of Cosmetic Surgery. Call today at 949-706-7776 or visit http://www.galleryofcosmeticsurgery.com.