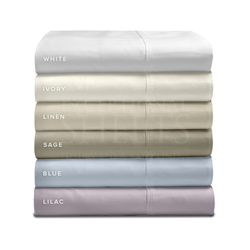 Egyptian Cotton sheets are a true luxury and are worth a little extra effort to be able to enjoy for many years to come
Evansville, IN (PRWEB) June 30, 2014
Egyptian Cotton sheets are some of the most sought after luxury items in the world, and knowing how to take care of them is key to their longevity. Online luxury linen and bedding retailer ExceptionalSheets.com wants to offer some tips on making your Egyptian Cotton bed sheets go the distance and last for years to come.
Egyptian Cotton sheets are made from cotton grown and harvested in the Nile River Valley, and their softness and durability comes directly as a result of the cotton's silky fibers and the mercerizing process used on the cotton after its harvest. The cotton's strong and extra-long fibers are the reason why people will go to great lengths to own sheets made exclusively from it, and following a few simple rules will help to keep Egyptian Cotton sheets soft and luxurious for years to come.
ExceptionalSheets.com's Business Development Associate Kyle Schmidt is the company's true authority on the subject of Egyptian Cotton, and he says that proper care for the sheets is vital to their longevity.
"With the proper care and laundering, Egyptian cotton sheets will actually improve with age and get softer and softer which each wash," says Schmidt. "A "less is more" approach is needed to prolong the life of the sheets and will enhance their softness and comfort level," he continued.
Schmidt says Egyptian Cotton sheet owners should follow these steps for washing their sheets: Pour in half the amount of detergent that you would normally use and do not use chlorine bleach. He says that the non-chlorine variety of bleach should be used very sparingly on white or off-white sheets.
He also says that using the lowest agitation setting is necessary, as well as using cold water. Washing with hot water can damage the sheets and cause pilling and other issues.
Egyptian cotton linens should always be washed completely by themselves with no other laundry. Pilling can be caused by washing sheets with socks and other clothing. This is also because zippers and buttons on clothing items can snag and damage the linens.
Schmidt says that the best way to dry sheets is naturally outside, but they are machine dryable, as long as a few different directions are followed.
"It is ideal to avoid machine-drying your linens because line-drying preserves the integrity of the threads," he said. "That said, if you must machine dry them, use the lowest heat setting and do not dry the sheets any longer than is necessary."
Schmidt says that, if possible, you should remove the linens from the dryer when still slightly damp and air-dry them to complete the process. People should also avoid drying at high temperatures.
Schmidt closes his thoughts by noting, "Taking care of this kind of item is the best way to make your investment pay off in the form of comfort," he said. "Egyptian Cotton sheets are a true luxury and are worth a little extra effort to be able to enjoy for many years to come," he said.