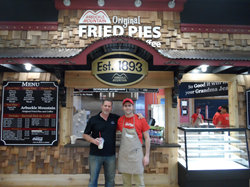 We're excited to welcome four more independent coffee houses to our community. Our passion for handcrafted coffee and small business has helped open hundreds of independent and family-owned coffee shops over the past 23 years. - Greg Ubert
Columbus, Ohio (PRWEB) June 27, 2014
Ohio coffee roaster Crimson Cup Coffee & Tea has added four new businesses to the growing community of independent coffee shops, bakeries and restaurants across 28 states that serve Crimson Cup beverages. The new enterprises include Bradley's Gourmet Coffee & More in Whitley City, Ken., Arbuckle Mountain Fried Pies and Coffee in Cincinnati, The Coffee Station at Landis Valley outside Lancaster, Penn. and Dawdy Haus Coffee in Springs, Penn.
"We're excited to welcome four more independent coffee houses to our community," said Founder and President Greg Ubert. "Our passion for handcrafted coffee and small business has helped open hundreds of independent and family-owned coffee shops over the past 23 years."
All of the business owners completed Crimson Cup's Seven Steps to Success program. "This program teaches everything a new owner needs to run a profitable coffee shop," Ubert said. "We offer everything a coffee shop franchise does – and more – but without franchise fees and royalties." The program is based on Ubert's book, Seven Steps to Success in the Specialty Coffee Industry.
Each of the four businesses is as unique as its owners. Unlike coffee franchises, Crimson Cup allows entrepreneurs to create distinctive specialty coffee businesses. From the name on the door to the location, menu, interior decor and other features, each owner puts a stamp on a coffee house that reflects individual tastes and local community needs. Owners are even free to add Crimson Cup's handcrafted coffee to another concept, such as a bakery franchise.
On May 1, Nina and John Bradley opened Bradley's Gourmet Coffee & More at 363 N Hwy 27 in Whitley City, Ken. Nestled in the heart of the Daniel Boone National Forest, Bradley's offers a comfortable seating area and a drive-thru for coffee lovers on the go. The shop serves handcrafted espresso-based drinks, smoothies, teas and Italian sodas as well as an assortment of muffins, cookies and other great desserts.
"'Building our community one cup at a time' is our slogan," Nina Bradley said. "Just like Crimson Cup, we feel that small businesses are the heart of our communities."
Arbuckle Mountain Fried Pies and Coffee opened May 11 inside Jungle Jim's grocery store at 4450 Eastgate South Drive in Cincinnati. Owner Jerry Fry operates a successful Tri-State area collision repair chain, but was looking for a new challenge. He joined with sons Mat Fry and Mike Fry to open the new venture, which serves up Crimson Cup coffee, espresso-based drinks and frozen drinks to complement sweet and savory fried pies from Oklahoma City's Arbuckle Mountain franchise.
Created by Joy and Brian Lee and Joy's parents Jim and Charlotte Allgyer, The Coffee Station at Landis Valley opened May 30. Its menu features espresso-based drinks, frozen drinks and smoothies as well as pour-over coffee, a variety of teas and assorted pastries. Located outside Lancaster at 2351 Oregon Pike in The Shoppes at Landis Valley, The Coffee Station offers comfortable seating for about 40.
Like Jerry Fry and many other coffee-shop owners, Jim Allgyer is a serial entrepreneur. The Coffee Station plans to send used milk jugs and plastic cups to his other business, Casual Living Products Unlimited, which transforms post-consumer plastic waste into poly outdoor furniture.
On June 25, Larry and Kay Byler opened Dawdy Haus Coffee at 634 Springs Road in Springs, Penn. Translated from Pennsylvania Dutch, Dawdy Haus means "Grandfather's House." Inspired by their grandparents, the Bylers have given their coffee house the feel of a comfy cottage. Walnut cabinets and a warm fireplace with a gorgeous copper chimney create a frame for family heirlooms such as the marriage certificate of Kay Byler's grandparents. In addition to a full menu of espresso-based hot and frozen drinks and tea, Dawdy House will feature luscious baked goods and a mini-market with fudge, canned foods, and other Amish-style goodies.
About Crimson Cup Coffee & Tea
Since 1991, Crimson Cup Coffee & Tea has hand-roasted specialty coffee in Columbus, Ohio and taught independent business owners how to be successful through its coffee shop franchise alternative program. Sustainably sourced Crimson Cup coffee is available through a network of more than 350 independent coffee houses, grocers, college and universities, restaurants and food service operations across 28 states, as well as the company's own Crimson Cup Coffee House in the Columbus suburb of Clintonville. For more information, visit crimsoncup.com.