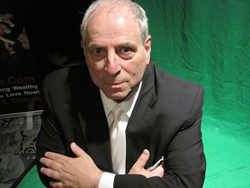 MBH NRG Completes Distributed Energy Solutions Acquisition Offering Improved Power Plant Efficiency
San Diego, CA (PRWEB) June 30, 2014
MBH NRG LLC (MBH), a green energy solutions provider, today announced the completion of its acquisition of Distributed Energy Solutions, Inc. (DES), a leader in power generating infrastructure and sustainable energy systems.
MBH agreed to purchase DES for $5 Million. Murray Millander, founder and CEO of DES will be joining MBH as CEO effective immediately. "The acquisition of DES adds significant experience and capability to the MBH product portfolio. I look forward to applying DES's experience in complete turnkey co-generation solutions and Turbine Inlet Air Cooling (TIAC) for new and existing power plants worldwide", Millander said.
Robin Bisarya, Chief Commercial Officer at MBH NRG said, "Natural gas turbine power plant operators and District Energy providers worldwide demand greater efficiency to reduce carbon emissions through the compelling return on investment of TIAC and cogeneration. We are pleased to have Mr. Millander, who pioneered using two stage absorption chillers in cogeneration systems, as our CEO."
MBH's mission is to provide green energy solutions that contribute to a sustainable world and a cleaner, healthier environment. To accomplish this, we will provide design, installation, finance and operational services for power generation and green energy solutions globally. We focus on solutions that improve the efficiency and reduce carbon emissions of existing power generation facilities.
DES is a leader in power generating infrastructure and sustainable energy systems. Our systems save clients considerable energy and financial operating costs. Our green energy solutions have enabled clients – including University of California San Diego, Marriott Hotels, Qualcomm and others - to contribute to a cleaner, more sustainable world.
About MBH NRG:
MBH NRG LLC is a clean energy solutions provider delivering environmentally conscious power systems design, consulting and installation services in concert with power plant developers, owners, financiers and equipment manufacturers. MBH NRG provides solutions for constructing cogeneration, simple cycle and combined cycle power facilities, turbine inlet air cooling (TIAC) systems, balance of plant and management of all phases of project development. We are strategically aligned with the world's finest manufacturers enabling delivery of innovative, reliable and proven solutions for our clients. For more information, visit http://www.mbhnrg.com.
About Distributed Energy Solutions (DES):
Distributed Energy Solutions (DES) is a leader in power generating infrastructure and sustainable energy systems. We provide distributed energy, co-generation and combined heat and power (CHP) solutions designed using systems from the worlds' leading manufacturers. We configure the most appropriate and cost-effective components for your CHP solution, providing the most compelling value proposition for our clients. For more information visit http://www.distributedenergysolutions.net.
For further information, contact:
Robin Bisarya, Chief Commercial Officer, phone 858.859.0075, email robin(at)mbhnrg(dot)com