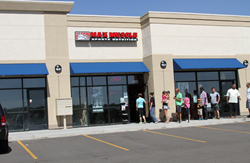 "Brain supplements are pushing 2 billion dollars."
Denver, Colorado (PRWEB) June 27, 2014
"People have been lined up here since 6 am to get their hands on our new shipment of KOIOS," said Bryan Cash, owner of a Max Muscle in Centennial Colorado. This was Bryan's response to the large gathering of people outside his store.
According to Nutra Ingredients, the global market for brain health supplements is pushing the 2 billion dollar mark and continues to see the fastest growth in the supplement industry. Since 2007 there has been a 23% increase in the demand for these products.
"The category is beginning to skyrocket," Daniel Amen, MD, a psychiatrist and author of Use Your Brain to Change Your Age (Crown Archetype, 2012) and other books about brain health, told NBJ. "Eleven thousand people turn 60 everyday and there is a ton of news out there about Alzheimer's disease, but no treatment that really works."
The Alzheimer's Association reports that 5.4 million Americans are living with Alzheimer's disease, which is the sixth leading cause of death in the United States. By 2050, the number of Americans with Alzheimer's is expected to hit 16 million and cost the country $1.1 trillion. A recent Harvard University survey found that adults fear Alzheimer's more than heart disease, stroke or diabetes—only cancer is feared more. The anxiety is justified: Deaths from Alzheimer's jumped 66 percent between 2005 and 2008 while deaths from other major diseases decreased.
Baby boomers are not the only demographic clamoring for brain supplements. When asked about the popularity of their new product, Sherron Lewis, Vice President of Koios, said, "Our largest demographic is young professionals and students. We do have many baby boomers who take Koios to enhance brain function, but it's the folks who are pushing hard professionally and athletically that seem to be most attracted to our product."
It's not hard to understand why brain supplements like Koios are gaining popularity when compared with prescribed stimulants. Sales of prescription stimulants reached almost $9 billion last year in the US alone, according to data from healthcare technology and information company IMS Health. They have more than quintupled since 2002.
"That is why we created Koios. We wanted to give the public a safer, more natural alternative to stimulants and prescribed medications," said Chris Miller, President of Koios. When asked about the following they have created with their product, Chris said, "Koios is less expensive than coffee and energy drinks and is a much healthier and natural way to create focus and energy. People are poisoning themselves with prescriptions to ensure they will stay focused and now there is an alternative. We are proud to be delivering such a quality supplement and we are honored that it is being so well received. The lab that makes our product is an INC 5000 company and we use only the best ingredients on earth and we deliver it at the lowest price in the industry."
Breaking Muscle, one of the internets largest fitness blogs, recently rated Koios one of the best nootropics on the market.
Koios has a full ingredient panel on their website.