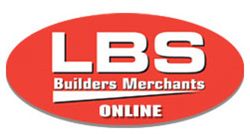 LBS Builders Merchants have a long standing relationship with Grange Fencing, who have been supplying their landscaping products for many years.
Llandeilo, Carmarthenshire (PRWEB UK) 30 June 2014
LBS Builders Merchants has recently introduced landscaping products to their online sales website, offering a range of high quality products to suit customer needs. LBSBM Online is a convenient online solution for sourcing building materials, offering a huge range of products for delivery all over the UK.
Other products that LBSBM Online supplies include power tools, decorating supplies, painting tools, electrical fittings, personal protection equipment, plumbing tools, hammers and woodworking tools. The website is essentially a one-stop shop for all supplies that a builder or contractor could possibly need.
With the new addition of landscaping furniture, this means that customers using the already popular building material supply website will be able to enjoy the benefits and convenience of ordering garden supplies from this trusted supplier as well.
Teaming Up With Supplier Grange Fencing
LBS Builders Merchants have a long standing relationship with Grange Fencing, who have been supplying their landscaping products for many years. Grange Fencing was established in 1868 and has been only offering the highest quality materials ever since. The gardening materials that Grange Fencing supplies include gazebos, fencing, pergolas, garden structures, arches, gates, planters, arbours, garden furniture and much more.
Grange Fencing offers high quality customer service as well as many useful resources that customers can use to learn DIY techniques. On their website, they offer free "How To" PDF downloads that instruct customers on how to build arches and arbors, how to set up a composter, useful landscaping tips, how to build timber gates and much more. These helpful guides make it a lot easier for the average homeowner to achieve great results with their own landscaping – as well as offering experienced landscaping professionals some new ideas and tips.
Environmental Protection a Priority
Grange Fencing pride themselves on selecting the most suitable timber which is environmentally sound, as they hold the environment as a high priority. They source their material according to the Forest Stewardship Council Standards and they have an arsenic-free treatment process.
The products produced by Grange Fencing are made with environmental considerations in mind, which means that they will be better for the planet and will help to protect nature for our future generations.
About LBS Builders Merchants
This Welsh company was founded in 1931 and has grown to 14 outlets in South West Wales. They supply a selection of building materials to a diverse customer base, including the plumbing, civil engineering, roofing, building, developing and DIY industries. Their head office is located in the picturesque town of Llandeilo and they have evolved over the years to include 11 different Merchant Branches as well as a Home Centre and specialist businesses that focus on roofing, plumbing and civil engineering. LBS Builders Merchants now employs over 200 staff and commands a fleet of over 40 vehicles – yet they are still a family owned company.
LBS Online was launched in 2012 to allow their customers to order building materials online, offering an enormous product range with over 40,000 lines. By teaming up with Grange Fencing and adding landscaping products to their range, they will be an even more valuable source for builders and DIY enthusiasts all over South West Wales.
Contact
LBS Builders Merchants Ltd
Station Road
Llandeilo
Carmarthenshire
SA19 6NL
Tel: 01558 824044
Fax: 01558 822723