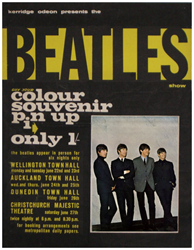 (PRWEB UK) 29 June 2014
A Brief History of The Beatles performances:

12th to 13th June 1964. Centennial Hall, Showgrounds, Australia
15th to 17th June 1964. Festival Hall, Melbourne, Australia.
18th to 20th June 1964. Stadium, Rushcutter's Bay, Sydney, Australia.
22nd to 23rd June 1964. Town Hall, Wellington, New Zealand.
24th to 25th June 1964. Town Hall, Auckland, New Zealand.
26th June. Town Hall, Dunedin, New Zealand.
27th June 1964. Majestic Theatre, Christchurch, New Zealand.
29th to 30th June 1964. Festival Hall, Brisbane, Australia.
We are inviting members of the public to contact us with any pop music memorabilia (concert posters, flyers, programs, tickets, signatures, magazines, personal possessions, negatives, lyrics etc) for a free valuation. Our service is an opportunity for people to have an item of memorabilia that they own appraised. Sometimes people want to know the history of the items they have had stored in their attics for the last 30 or 40 years. What is it? Where was it made? How many were made? Is it real or fake? And most important of all…what is it worth?! These are some of the most commonly asked questions we hear.
At a Glance – The Value of Beatles Memorabilia
Beatles Signatures – On one page are valued around £2,000 - £2,500, photographs signed on the image and programmes are around £4000. Autographed Love Me Do singles are £6,000+. Autographed Beatles LP sleeves are priced as follows – Please Please Me and With The Beatles between £6,000 and £10,000, all other signed Beatles albums are priced between £8,000 and £10,000. Signed copies of A Hard Day's Night, Beatles For Sale, Help!, Rubber Soul and Revolver in excellent condition are valued at £20000 plus. Signed copies of the White Album, Abbey Road and Let It Be could be worth more than this depending on condition. If you have a copy of Sgt. Peppers signed by all four Beatles on the gatefold it can be worth £60,000 plus!
Concert Posters – £4,000 to £8,000
Handbills – £300 to £600
Programmes – £25 to £35 much more if it is from a specific venue.
Tickets and ticket stubs – £25 to £1,250
We-buy-beatles.com is the buying arm of Tracks Ltd. Established in 1989, Tracks has developed into one of the world's leading dealers of rare Beatles and pop memorabilia. Its staff of specialists have over 20 years of experience of appraising, authenticating, evaluating and selling Beatles and rock 'n roll collectables at the highest level. In addition to The Beatles their expertise also covers that of memorabilia relating to all of the major artists and bands from the last several decades – the Rolling Stones, Jimi Hendrix, Led Zeppelin, The Who, Pink Floyd, Bob Marley, the Sex Pistols, The Clash, Madonna and Michael Jackson et al.
For further information please contact us.