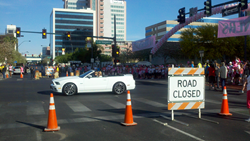 Chicago, IL (PRWEB) June 30, 2014
RoadSafe Traffic Systems, Inc. today announced that it has expanded operations in order to work with organizations that produce special events such as major sporting events, concerts, parades and festivals. When it comes to protecting the public at events, more organizations are turning to traffic safety experts who work side by side in the planning of traffic flow, emergency routes, crowd control and participant safety. In order to meet the demands of customers, RoadSafe is strategically deploying equipment and other resources to its branches in and near major cities such as Boston, Houston, Chicago, Denver, Phoenix and Las Vegas.
According to Jeremy Byers, National Business Development Director for RoadSafe, "We've observed that in this growing market, more organizations are asking us to handle traffic plan drawings and make recommendations on equipment selection, in addition to our customary service of set up, maintenance and removal of equipment. I think that planning has become more sophisticated and event organizers are seeking those who are trained and certified in all facets of traffic safety and those who can readily coordinate with law enforcement officials as well." Use of portable changeable message signs, arrow boards, barricades or drums, signage (both custom and standard), water barrier wall, pedestrian fence and pavement markings all are typical devices and products used at major events to ensure the safety of all those in attendance.
RoadSafe Traffic Systems, Inc., is the largest provider of temporary traffic control and protection, pavement marking and sign installation services and products with branches throughout the United States.